The Muslims pay special attentions to their faith and marriage traditions. It is a very important thing for them to find an appropriate spouse. Usually a Muslim single will ask friends and family members to find potential partners for them. Howver, today, with the popularity of Internet dating, quite a few of young Muslims tend to meet their another half online. where they have more choices and can learn more about the other person before a meeting arranged. Online dating is a low-stress solution which can allows to to take one's time while browsing lots of profiles.
There are many Islamic marriage sites out there to meet special needs of Muslims. Some of them are owned and run by Muslims and only accept users with Muslim backgrounds. While others are more open and allow people with different backgrounds to use their service. Below are reviews of the some best Muslim dating sites we've come across.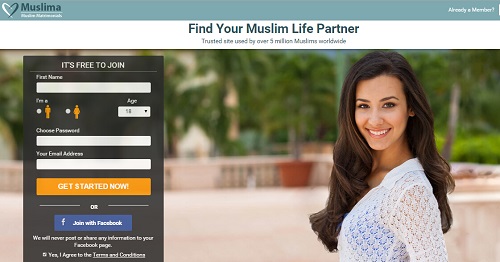 If you want to date a Muslim single, Muslima.com is a great leading Muslim matrimonial site for you. This website focuses primarily on international Muslim singles match-making service. At present they have more than 5 million members, which is the largest member base among all online Islamic marriage websites. At any moment you can find thousands of active users who try to find single Muslim women and men out there .
It is free to sign up and you can use it as a free member and browse others' profiles for free. the standard free membership allows you to receive messages but can't read them if both are free members, you can reply to him/her only when at least one of you are a paid member. Since most female members are free members, if you are a man, you'd better upgrade to a paying member with just a few dollars per month.
Muslima offers a fantastic instant messaging service, which allows you to chat with others in real-time, you can chat with more than one user at the same. You could also deliver 'interests' to other members to show you want to chat with them. If you want to know another person better, you can invite her/him to use video mail service, that allows a member to record video message and send to another member. Besides you can use its advanced search engine to find your potential dating partners with up to 48 different dating criteria.
Please beware of scammers on the site. It will be a waste of time to talk to those with just one or two every attractive photos or even without any photo. Just contact those who have several living photos and more detailed profile. Although many are genuine profiles, there are also some scammers on the site but the percentage is not that high here, just be careful and learn some basic tips for online dating.
Overall, Muslima.com is a great site which has lots of active users and great features to let you keep in touch with Muslim singles you are interested. It is a fantastic place for you to meet Muslim singles around the world. Click the button below to check it out for yourself.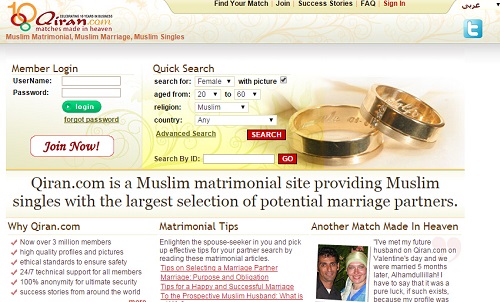 Established its matchmaking service in 2004, Qiran.com is a very popular Muslim dating site in the world. It has about more than 3 million members on the site, just after Muslima.com.
It is free to register and takes just several minutes to sign up, you will get approved in an hour or so. When sign in you will find a huge number of Muslim men and women profiles with different backgrounds around the world.You can contact with other members with electronic cards, flowers, instant message, and email. Its powerful search function can help you to find the right person for you from skin color, language, and religious beliefs.
Qiran is a good place for people with Muslim faith who are looking for serious marital partner. Their big member base and distinctive features help Muslims find their love easier.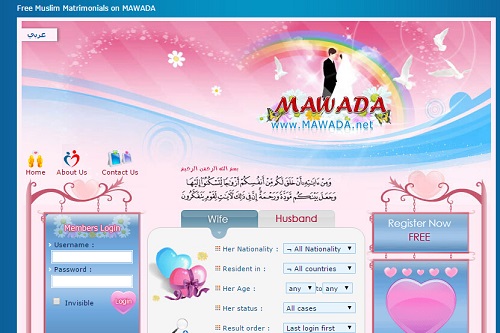 Mawada.net is a well known Islamic dating website around the world. When open the site you will see that the design of the site is not attractive and can be called a poor one to some extent. But actually Mawada is among the most favored Muslim dating services. It has more than one million users since its establishment in 2006 and always has about 1500 users online.
Mawada is a devoted Muslim dating site. They only accept Muslim people and will ask users to promise their honest intentions before signing up. After filling out your information and complete your profile, you will need to wait around 24 hours for the account to be activated.
When browsing the profiles we found that few of the profiles had pictures. If you think appearances are not so important, then you can continue your hunt there. Users can use its online search engine to narrow down your search and find those who are suitable to you. Mawada's yearly fee is $75 and no extra costs.
Overall, Mawada is a good option for those who stick to strict Islamic principles. As most of the of members on this site speak Arabic as the first language, we do not recommend anyone who doesn't speak Arabic to register their service.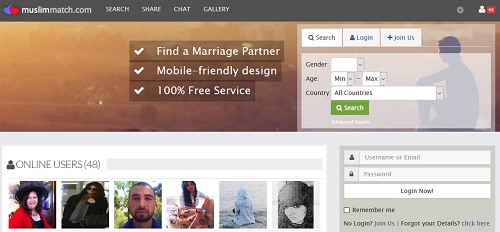 MuslimMatch.com is a unique Muslim matrimony site run by Muslims. It is some kind of Islamic social network for both male and female Muslims.
The basic membership is free, you can do the search, browse other members' basic profiles, and also send messages to premium members. However, If you want to view other members' videos, and more photos, you will have to update your member's level.
MuslimMatch has around 7,000 active members worldwide and has great success rate in matching making single Muslims. For those Muslims who are faithful and seeking devoted and long-lasting marriage, Muslimmatch is a good and trustworthy option.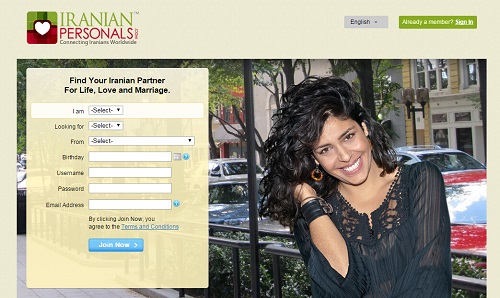 IranianPersonals.com is a Muslim dating site which mainly attract Iranian daters and it also welcomes non-Iranian, non-Muslim members in the world. Compared with those strict 'halaal' faith dating sites, this site offers a quite relaxed environment to users.
Iranian Personals offers a variety of features which help the online dating process a little bit more enjoyable. Besides the common features of chat, email and 'flirting', members may also use their personality match test to find the profiles which matches him/her the best. However, there are some downsides of the site. One of them is its old-fashioned interface which looks not attractive at all.
The membership fee is $39.99 a month, which is not a good price compared with other dating sites. You really should browse other Muslim dating websites before making a decision.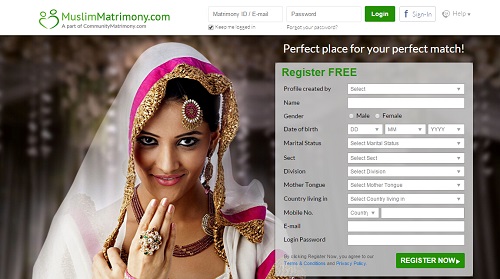 MuslimMatrimony.com is a popular online dating site which caters to Muslim singles from India. The website has communication-focused design and is user-friendly. You can find all your activity and communications on your personal homepage.
It seems like most profiles on the site have detailed information and at least one image. That makes your search for your ideal love more easier and interesting. You can also check out their telephone number and other details as an additional protection to you.
The site allows users to search for others by the particular doctrine of Islam and the languages they speak, which are very important for those a strong religious identity.
If somebody attracts your attention, you'll have to upgrade to a paying account in order to contact him/her. The cost is as low as $1 one day for a gold membership. We do not recommend Platinum Membership as it provides not much benefits than a gold membership.
Overall, Muslim Matrimony is the best dating site if you want to meet Muslims singles from India. Check it out today, you won't regret it!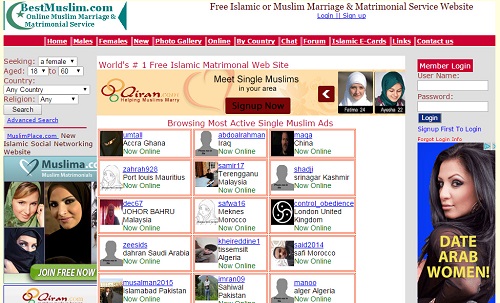 BestMuslim.com is not a big player among Muslim online matchmaking services. But it's totally free of charge, Because of this, BestMuslim stands out from the many Muslim dating sites as the only absolutely free Islamic dating services.
Though being free, they still manually check out new registers' profiles. This is certainly not a warranty that no scammers on its platform. However it is a measure that can improve security and avoid being cheated.
After signing up, your account will be activated within 24 hours. When sign in, usually you can find around 50 members online out there. It isn't much, but it's something. The site offers some basic features such as email and users can exchange email addresses freely. Those who hope to have video chat and other advanced features will be disappointed. Being free, you can't expect much more there..
BestMuslim.com is the best choice for Muslims who are seeking love but on a budget. Though with a small member pool, if you spend some time there, you could possibly find a real gem out there.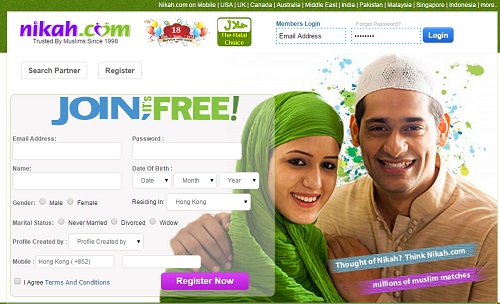 Nikah.com is a Muslim matrimonial site to help Muslim singles tie the knot around the world. Launched in 1998, Nikah.com already attracted over 2 million members worldwide, the majority of its members are Pakistani, Bengali, Arab, Indian, Sunni or Shia Muslims.
All registers are needed to provide and verify their telephone number, which improves the security when using the site. Users can upload up to 5 photos.
The site is is strict with applying Halal principles, a feature which is extremely important to many Muslims singles. Please click the button below to check out more.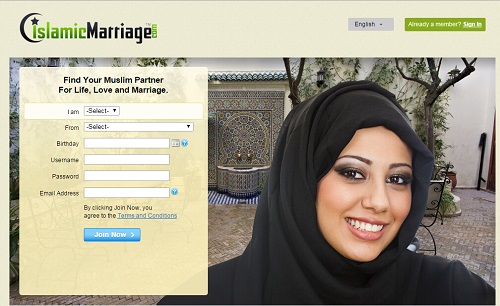 IslamicMarriage.com is a dating site which caters to Muslims matrimony and connect male and female Muslim singles together for Zawaj and Nikkah.
It is easy to sign up and the whole process just takes 5 minutes. Then you can browse others' profiles immediately. Free members can get access to members' photos and info, if you want to contact other members, you need to upgrade to premium membership. And then you can send messages or have live chat.
If you want to know another further, you can use their audio and video chat, which will help you know the person via his/her appearance, tone,voice or laughter.
When signed in, we found that there are always around 200 users online there, this is not bad but definitely not much compared with other big Muslim dating sites such as Muslima.com. But Islamic Marriage is less expensive than other competitors, it is a good option for those on a budget.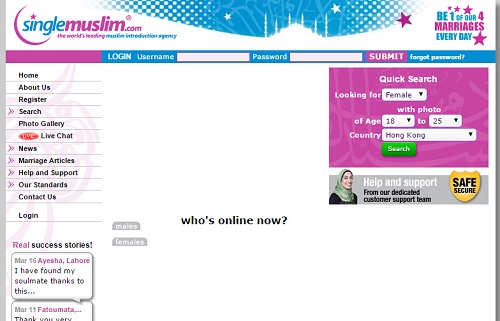 SingleMuslim.com is devoted to introducing single Muslim men and women who look for serious and long term relationships. It is an international dating site with many members from Western countries such as the United Kingdom.
The site is free to all Muslim women who can get access to various special features on the site such as email and live chat.
The site mainly attracts singles with Muslim background, but it is open to men and women coming from all backgrounds, nationalities and race. However with high male member rate, it is expensive to use SingeMuslim for men compared with other similar sites.