They say that if you have not heard the phrase "I love you" said in Italian, you ain't heard nothin' yet! Ti Amo (I love you). Mi Vuoi bene? (Do you love me?). Italy is the land of many surprises. It is the land of love, passion and romance. It is the land of unparalleled beauty, art and tell you what, religion too! Unbelievable, isn't it? And that is why Italian single ladies and men are sought after all over the world. If you would love to enjoy amore puro – pure love, you will have to fight to find an Italian lover. It will not be easy, since the demand is obviously higher than supply. However, tell you what? As soon as you locate the best Italian dating site for your foray, you will increase your chances to date a single man or woman from Italy significantly. Many dating companies have packages for people who would love to date an Italian partner. Here, we will only look at five Italian dating sites only. Love is not love unless you experience it in Italian.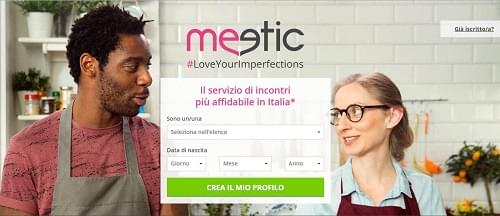 Meetic is one of the best places online to start looking for Italian love because it was founded in Boulogne-Billancourt in France – the country of lovers. With over six million members from Europe, you can be assured that a good number of that is from Italy. Many people recommend that you sign up on many sites to find an Italian mate but that need not be too necessary when you find Meetic because it will meet most of your needs. If you do not want to go through the trouble of signing up on many sites, then we would suggest you do Meetic.it and from the domain name alone, you can guess that this is the Italian chapter only that is dedicated to a core membership of Italians.
Meetic.it features
Many features make Meetic.it the best dating site in Italy. However, we will look at just a few of them, the most vital of them. Some of them are only available to the paying members, but here are some that are made available to the free members:
You can create an account free of charge and create your profile and add photos. Make sure every image is not bigger than 5MB.
You will get six matches per day sent your way. This means that every day, you can get six matches from Italy!
Get alerts through your email, know what is happening online even when you are not on the site
You can take an affinity test to determine whom you can be matched with easily
You are allowed to send winks to flirt with members you are interested in
You can also block members who annoy you
Create a list of favorites
You can also rate your matches, see if they rate in you return and you two can pick it up from there.
As a paying member, you will get to enjoy all the features that the free members enjoy, plus many more on top. These include:
Browse the site without the annoying ads
Instant message the Italian members that you love
Email the other members
Find "Similar Profiles" of people with the same interest as you
Use the site chat rooms to contact other members
See what members are viewing other people's profiles
Hide your profile from a member who is interested in you but you are not interested in them
Meetic.it costs
Paid membership comes in three plans of one, three and six months. The one-month plan is €29.90. The three-month membership is €19.90 per month paid in a lump sum of $59.70. The six-month membership cost is €12.90 per month paid in lump sum of €77.40.
With millions of members, you are likely to get a black or fair haired Italian woman to knock you off your feet. However, check that the paid membership does not renew automatically and if it does, cancel it. If you are confident about your lady tuning skills, start with the one month membership as you will probably not need to be on the site much longer if you can get the woman or man of your dreams in the first month.
Pros
Lots of members from all Europe and around the world.
A large number of members.
There are instant messaging chatting and e-mail available.
Detailed search functions to help you find your partner type.
Cons
There maybe fake identities.
2. eHarmony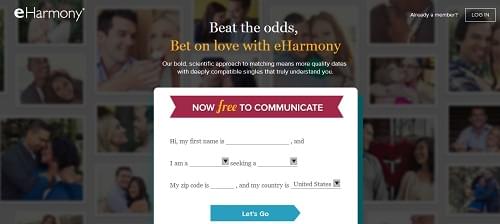 You can find love in Italy using e-Harmony. And it need not be too hard. Because eHarmony, was established way back in 1998, you can say that this dating website has a long experience connecting people with their love on the internet. It is considered an online dating giant from the long experience. With time, it has gotten better and has signed up hundreds of millions of members and at the same time, it has seen many of its online connections turning to marriages. It is little wonder then that it is considered one of the best Italian dating sites.
It was started by a psychologist
This website was established by Dr. Neil Clark Warren, a psychologist. Therefore, you can be sure that every feature there is designed to bring the very best out of you and ensure that you get the love of your life fast enough.
Consider for example the relationship questionnaire that comes with over 200 questions that are deemed to help other people know the kind of person that you are from the answers that you will give. Not many other sites have this feature. Some of the things that this test is going to bring out include your main personality type, your values regarding life, your dreams, what you think about life and just how suitable you are to have a long-lasting relationship.
With the answers that you will give, you will help the software determine whom to match you with. It is important that you answer truthfully, that is, if you are serious about finding an Italian partner. Remember, Italian singles are truthful to a fault. Start off with honesty and you will never regret it. All the questions in this questionnaire are deemed to be important as they determine how happy a marriage can be.
eHarmony features
Apart from the 200 questions, there are many more others that make this the best dating site in Italy. Here are just a few of them:
You will use targeted matching which is going to save you a lot of time. Other sites allow you to do your own searching thus wasting precious time. eHarmony will bring you matches and then you can interact with them, if you like.
You can see who has viewed you. If they viewed you, it is because they saw your profile and they were interested. Thus, you can break the ice right away and save time.
The system saves your matches for you so that you can look at them from time to time. Just go to "My Matches" button and you will be brought all profiles of people you have ever matched with.
You will get notifications through email. That means you can get emails about your eHarmony activity even when you are not logged in to the site. Many people are always busy and may not always have time to login to dating sites every time.
Create your account easily; create your profile and upload recent pictures of you and you will be ready to go. It is that easy.
eHarmony cost
There are two kinds of memberships on eHarmony. The Basic Membership is cheaper, but it will cost you a goodly amount of money. The Total Connect Membership is costlier than the Basic Membership.
Membership comes in 1 month, 6 month and 12 month plans. For the 1 month plan, you will pay $$59.95 per month. The 6-month plan costs $39.95 per month while the 12-month plan costs $18.95 per month.
Pros
It requires users to complete a compatibility quiz.
A perfect place to find serious relationships or marriage.
The site will recommend potential partners based on your profiles.
Video chat is available.
Cons
A log time to register.
The site does not allow uses to search on your own.
3. Plenty of Fish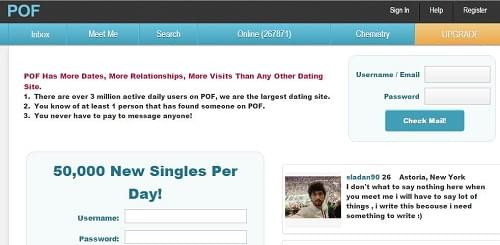 Plenty of Fish (PoF) claim that they have 50,000 new singles and more signing up for accounts with them all the time. Whether this is true or not is up to you, but it is possible, especially on a borderless dating and social community as is provided by this American site. Does PoF have many members from the European Union? There are millions of members from any part of the world. You can be sure there many Italian singles on this website looking for love.
Some countries have been banned and Italy is not one of them. You will find their security measures a bit strict as you will be required to choose a complex password. Be sure to write it in a safe place because it could be too complex to remember off-head.
Sign up will take some time because there are many things to fill up. There is also a chemistry test that you must take and upload a face shot for security measures. This site is very strict about security and therefore if you leave any detail out, you could end up being banned altogether.
The Active Forums provides a good space to meet your future dearly beloved from Italy. Once you have created your profile, you can start sending and receiving emails even when you are on free membership.
On Plenty of Features, you can send you matches gifts, but to do this you will have to be a paid member.
Other PoF features to look forward to
There are many features on this site, but there are also extra special features worth checking out. These include:
Chemistry which will show you the people who would like to date you based on the answers that you gave for your Chemistry test.
Also know what users are most likely to respond. The good thing is that these will be PoF users near your location.
You can use the Favorites List feature to maintain a list of people you would consider hanging out with in future.
You can also use the Date Night feature to find out about people in your location who are planning to go on a date in future.
Also see a list of profiles of people who have viewed your profile.
PoF costs
Paid members enjoy more features and paid membership comes in three plans – 3, 6 and 12 month plans. The 3 month plan will cost you $11.80 per month paid in total of $35.40. The 6 month plan costs $8.50 per month paid in total of $51.00 and the 12 month plan costs $6.78 per month paid in total of $81.36.
We can quote many reasons why we say PoF is one of the best Italian dating sites, but chief among them is the large membership and the fact that even as a free member, you can access most of the site feature.
Pros:
It is one of the most popular free dating sites in the world.
It has a very big user pool.
You will find people who are looking for friendship, serious relationships and hookups.
You can find singles by different elements such as "education", "income", and "profession".
It has both desktop version website and iOS and Android dating apps.
Cons:
A big number of spammers and fake profiles.
There are ads on the site.
4. Tinder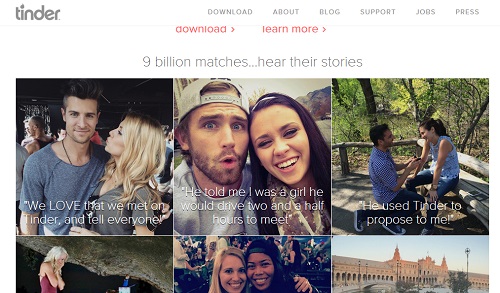 Over the years that this dating site has been in business, it has come to be mentioned synonymous with mobile dating. It is a very good dating site since you can also catch up with your online dates even when you are on the go. Being a very popular dating app, most Italian singles are signed up. In addition, Tinder is not only used for dating, but it is also used for socializing. In fact, many people use it for traveling. Therefore, if you are traveling to Italy to catch some of the world famous sceneries and world class museums and art galleries, you can use Tinder to get information about where to sleep, eat, dance, drink and do many other things. Thus, we can confidently say that Tinder is the best dating site in Italy that comes packed with features for more other things.
When you open Tinder in Rome, there will be matches coming your way in tens every minute. Why is this? Being a jovial and loving people, many Italians are most likely to swipe right on you, that is, like you.
And that is what Tinder is all about. It is about swiping left if you want to discard or swipe right if you want to keep.
Why use Tinder to find Italian partner?
Like Michael Moore says in his documentary Where To Invade Next, Italians look as if they have just had sex, regardless of the time of the day. They are a happy people, they love flirting and romance is ingrained on their DNA. Now, Tinder is a dating app/site that is made for people who love flirting and Italians are the flirt-masters of the world. Before you know it, one thing will have led to another and you will be up for knock-off date.
Tinder shows your job details now. Do not worry, nothing as open as where you work or the kind of salary that you make, but it will show the kind of career you are in. Some careers are more highly regarded than others and guys holding such will find an Italian woman to date faster.
It goes even further than that. For example, if there are Italian singles in the same career as you, they will be suggested to you as a match.
Cost of using Tinder in Italy
Tinder is mostly free to use. However, as a free member, you will get a limited number of swipes. If you pay, you will get unlimited swipes. The cost of Tinder is determined by your age. If you are over 30 years old, you will pay $19.99 per month. If you are under 30 years old, you will pay $9.99 per month.
Pros
Tinder is free, so you can install and use it without any cost.
Tinder is wildly popular and there are lots of members in Italy and around the world.
A good place to find young partners for hookup and friendships.
It is fast to register and easy to use it.
Cons
It is time consuming as the swiping and messaging is so easy and unlimited.
If your profile isn't good, it will be difficult for you to find matches on Tinder.
5. OkCupid.com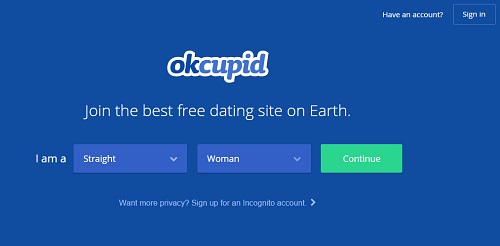 On 18 November 2013, the Telegraph of the UK ran an article titled OkCupid review: is it the best dating site for men?
Well, it is, not only for men looking for Italian single women, but for women as well. This is a fully-fledged dating site with all the features that you may require to get an exemplary dating experience on the internet. That it is "mostly" free of charge makes it very popular across the divide and in Europe, millions of users use the site every year. A good percentage of these users are from Italy. If you are looking for the best dating site to sign up on, you can be sure that match makers do not come any better than this one. Its name is OkCupid.com and it can easily be the dating site in Italy.
OkCupid features
Creating a profile is easy enough and only two things- location and relationship status are compulsory to fill up. However, give all the other details as required so that you can increase your chances of getting an Italian partner faster. Italians are straightforward to a fault, meaning that they do not tolerate liars.
Give answers to the matching questions. This is very important or you will have the system throwing everything your way. For example, maybe you do not want children, and then you neglect to fill that small detail. The system will then match you even with people who want children. See? The more questions you answer, the more closely OkCupid will match you with the right partner.
Make notes for profiles that you would like to come to later. These notes are only visible to you.
You can also get filtered searches that go into details like body types. This ensures that you get just the person that you want. Relying on the computer-generated matches alone is not going to help you get the perfect and match.
You can also filter the messages of people such that only the people who meet your criteria can send you messages. This saves you the trouble of reading messages from every riff-raff that signs up for a free account.
You can also see who liked you, as well as get read receipts for messages that you send. Really, some of these are features that you do not need. That is why many people just opt for the free membership.
To pay or not to pay? Many people say not to pay because whether you pay for membership or not, you still get to communicate and eventually meet the people that interest you most. However, it would be better to pay if you are looking for a long-term relationship with an Italian on OkCupid. Should you decide to pay, it is not much as it costs just $9.95 for three month membership. This is no doubt one of the best Italian dating sites that will hook up you with singles from Italy as well as other parts of the world.
Pros
Users can send and receive messages without a membership.
Paid members can use premium features.
There are members with various sexual orientations to choose from.
A most popular dating site in Italy and world with lots of members.
Cons
Some members aren't serious about dating online.
Conclusion
The Italians, just like the French, are lovers. Their women are lovely and every man wants them, and good food and wine. It is little wonder that they have one of the highest life expectancy in the world. To date one, you will face some competition and therefore you had better sign up on a few of the Italian dating sites reviewed here. Although most Italians prefer traditional dating, millions of them are signed up on dating sites.