There are many dating sites targeting the Caucasian, Hispanic, black, Asian and other communities that live in this great mix-pot of cultures that is the US. Does this mean that finding a perfect dating site to sign up on is going to be easy? In many ways, finding a good dating site is akin to buying any other product or service online. There are so many options out there and since they all claim to be the best, choosing the real deal can be a bit daunting. And that is why you are reading these short reviews of five of the best dating sites in the USA going by the price, features and success rate. Some of the sites that we have reviewed here are the best not only in the US but in other countries in the world too. You can be sure that when you use any one of these sites, you will not be disappointed.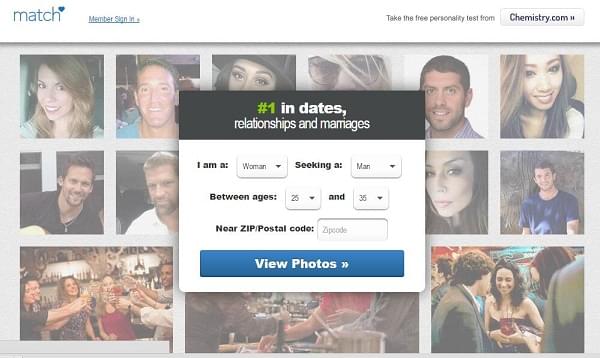 Match.com is a feature-rich dating website that is targeted at people living in the USA and Canada. It is a paid-for website. For as little as $20.99 per month, that is, if you are subscribed to the 12-month package, you will be on your way to meeting the love of your life on this site. But there are so many free dating sites out there … so you say. But even Match.com has a free membership for you, but then you would not enjoy as many features as the paid-for members do enjoy.
Match.com was founded in 1995 and since then, it has been connecting men and women looking for love. On this site, it does not matter what you are looking for because you will get it. While the site was initially intended for North Americans, that changed as it became more popular with time and millions of people from all over the world signed up. Today, it does not matter where you come from since the site has a subscription base of more than 20 million members from more than 20 countries. Maybe you are divorced, widowed or just single … this is the site for you to be on because there are so many people looking for a person like you to love. If you are of a different sexual orientation other than straight, this is also the site for you. It is aimed at everyone.
The features
A dating site is as good as the features that you will enjoy when you sign up. On Match.com, there are many features, some of them for the paid-for members and the rest for everyone else.
It has a wide membership, more than 21 million members from more than 24 countries in the world. With this kind of membership, you are assured of getting a partner.
There is free membership. Many people prefer to try out the free membership and then when they know what to expect, they move on to the paid-for membership. You can consider this as more of a free-trial thing. However, note that at the same time, many people have also found their partners when they were still on the free membership.
Members are offered a fun way to connect, something that you do not see in some of the best dating websites in USA. For example, Match.com has games that can help break the ice between strangers separated by thousands of miles of distance. These games are Name That Dance, Drawn Together, Gut Reaction and Romantic Rip Off.
You are guaranteed top security on Match.com. For example, the moment they spot any suggestion of untoward activity in your account, they lock it up to protect your identifiable information.
Costs
For the best, you will pay a fee. To bring you the above-mentioned features and more, Match.com charges you a fee of $20.99 if you subscribe for the annual package, $23.99 for the six-month package, $26.99 for the 3 month package and $41.99 for the one-month package.
You will be assured of the Match.com guarantee. They say that if you are a paying member on the site and six months pass without you getting successful, you will get another six months free, with all the features of the paid-for membership.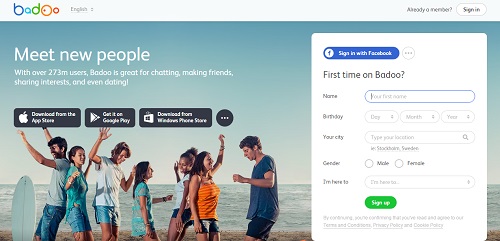 Badoo.com is perhaps one of the most popular dating apps in the world, what with a following of over 200 million users. This is also one of the best dating websites in USA and for a good many reasons as you will see here. Since its establishment in London ten years ago, this site has continued to draw in many members every day. Today, the subscription base spans over 190 countries.
This dating app is available on mobile for android and iOS users and pretty much everyone in the world uses one of the two. That means that you can date and socialize with people even when you are on the go. Just download the app to your device, create a profile, upload photos of yourself and you are good to start meeting many people, not only from the US but from many parts of the world too.
But badoo.com is different from other dating websites that you know. Instead of connecting you with everyone, unless you choose so, it will first seek to connect you to people who are in your location. This has become the fastest way to have a date.
Badoo.com features
There are hundreds of features that will give you are real badass dating experience on Badoo.com. You will love all of them, see below:
Badoo.com has the Encounters feature which displays photos of people that match your interests. This makes your search easier.
Membership is mostly free, but with a small fee, you can access a few extra features like Spotlight and Rise Up where your profile and photo is placed at the top of the page to attract more chats and views.
The feature called Badoo Super Powers makes many things possible for you. For example, you can see who likes you most, the persons that want to meet you, and it also enables you to chat with people and you can as well see the people that have added you as a favorite. This is a paid-for feature and it is sold in packages of one, three, six and twelve months.
You can rate photos of people that you like. They will see that and that may make your search for a date easier.
You can chat with whomever you like, but only as long as your phone number or Facebook account is verified.
Badoo is a social dating website where you get to socialize with people first and then you can see what develops.
Badoo.com costs
Paid-for membership on Badoo comes in packages of one, three, six and twelve months. The one month package costs $9.99, the three month one costs $8.33 per month, the six-month package is $5.83 monthly and the twelve month one is $5 monthly.
3. eHarmony.com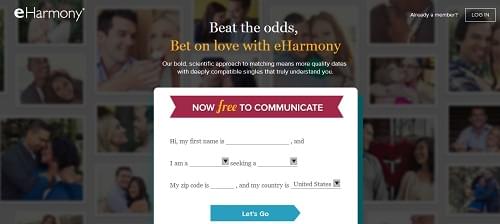 eHarmony.com has connected many people with their partners for a long time. This is a paid-for dating site and the cost is not exactly cheap. But then, if you pay a lot of money and get more than enough features for the same, what is the harm in that? In this short review, we are going to explore the features to see whether they are worth the cost you will pay for them. We will also look at just how much money you are going to pay on this site. Why is it regarded as one of the best dating websites in USA?
Let's see:
eHarmony.com costs
There are many packages here and you choose the one that you think will work best for you. For example, there is the one month package and the 24 month package. In between these two, there are more packages and all of them are offered at different prices.
If you opt for the 24 month package, you will pay $9.95 per month only. This is very tempting but then, what would you be doing on a dating site for 24 months, unless you are a serial dater who is always looking for dates.
Then there is the 12-month package that costs $18.95 per month. The six-month package will cost you $39.95 per month and the one-month package will cost you $59.95. These prices may be reviewed from time to time; therefore it is best to keep yourself updated.
eHarmony.com features
Once you fill up the compatibility form, eHarmony.com will use their special software to determine your personality. This means that you will only be matched to people who are looking for a person with your sort of personality.
Members get a lot of online dating advice to help them get started. This is very important especially for the new members.
You can pay an extra fee and get additional and very unique features. For example, you can even get to use the anonymous phone call feature where you can communicate with people through the phone but not with your real numbers.
Members get a free trial period of seven days. During this time, you can try out different features of the site, but you cannot view profile photos or communicate with the other members.
eHarmony.com is a match making site. This means that the software takes things out of your hands and therefore you will only go with whatever the software matches you with.
4. OurTime.com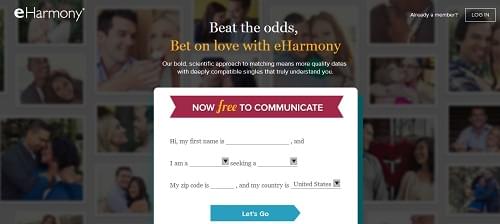 Now is the time to meet up, make friends and make love. OurTime.com is going to make that possible for you. It is one of the best dating sites in the USA that is targeted at people who are over fifty years of age. There is nothing like being too late to love as you will see when you sign up on this website. This is where you will find love even if you are above 70 years of age. There are many dating sites that have been dedicated to people who are over fifty years of age, but OurTime.com stands out due to its features and the number of men and women that it has brought together.
OurTime.com is one of many websites that are targeted at people above their forties to help them find love online. These websites which include senior dating site and operated by People Media OurTime Community. The good thing is that once you sign up on OurTime.com, your profile is going to appear through the entire OurTime Community without having to pay an extra fee.
OurTime.com features
The site receives more than one million visitors every month. You are assured of having a person take to you and make conversation.
Signing up to OurTime.com is free of charge. You will also create your profile free of charge and then later on after you have had hang of the site, you can upgrade to a paid-for account. However, when you are a free member, you cannot communicate with other singles.
Even with the free membership, you can still enjoy features like My Match; you can view profiles, send flirts and even use the I'm Interested feature.
Paid for members enjoy the features that the free members get, but with many extras. For example, once you upgrade, you will get to use features like instant messaging, see who has flirted with you, who has Fave'd you and you can as well see videos posted by other users.
People over 50 years of age do not have time to waste with a fuzzy interface and OurTime.com knows that only too well. That is why they have a very simple interface. Searching for people is very easy as you can search by gender, location age and so on.
OurTime.com costs
To unlock all the features like instant messaging, you will need to upgrade from a free to a paid-for membership. This is not too costly. This is how much it will cost you:
One-time fee of $3.99 for all first-time upgrades
Monthly package at $19.99 plus tax
Six month package at $12.99 per month billed as one lump payment of $77.94 plus tax if you would like to have your profile highlighted.
Six-month package $71.94 plus tax
5. Plentyoffish.com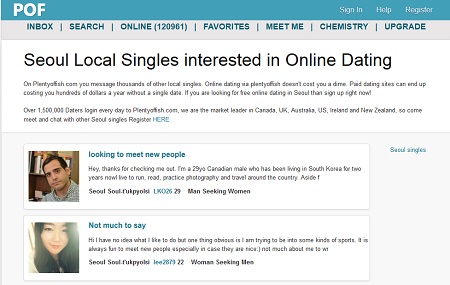 Just as its name suggests, this site intends to pass the message to you that there are many fish in the sea, that of you are lonely, you can still find love online, no matter how many times your heart has been broken. Established in 2003, this site has grown to become one of the best dating websites in USA as well as in many other countries. This site has a membership spanning 32 million and every month, there are more than 2 billion visits to the site. This means there are many chances of you getting a partner.
If you are looking for friendship, a long-term relationship, marriage or even a casual relationship, this is the website that you should sign up for an account. There are paid-for and free memberships.
This site is a bit different from most of the other sites in that it has specific features for specific genders only. For example, they have a Hottest Girls feature that is accessible to men only. This feature will bring you women that come from your location who reply to messages fast. For women, there is a feature called Most Attracted. This one brings women the men in their area whose personality is close to yours.
The main features that free members get on this site include basic matches, messaging and profile search. However, upgrading your membership will give you access to many more. For example, you can upload up to 16 photos, use PlentyOfFish ad-free, see people who viewed your profile, know whether your emails were deleted or read and many more.
Other features include sending up to three gifts every day, rank higher in the searches, see the date when a person viewed your profile and even have your profile showing up first in the Meet Me feature. You can see that paid-for members enjoy many benefits thus getting more than enough value for their money.
What you may not like about PlentyOfFish.com
Most people lament that they have to pass a test of 25 questions before they can upgrade to a paid-for account. Customer support is not readily available too. Apart from that, everything else is just so fine, making this one of the best dating sites in the world.
Cost
There is free membership, and then there are three packages of paid membership. The first one is $12.90 per month. The second one is the six-month package that costs $8.50 per month and the third one is the 12-month package that costs $6.78 per month.
Conclusion
If you are looking for the best dating websites in USA, these reviews have given you an idea of the sites where you can find a partner to make our life complete. They are all paid-for sites but the good news is that you will get good value for your money. If you have been looking for the best dating sites to sign up, this is where your search stops.