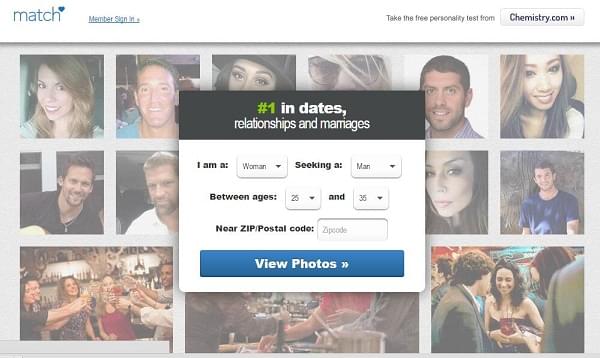 Match.com is an old site. It was established way back in 1995 and over that time, it has gotten better and it has connected many singles. But just as its name suggests, this is more than just a dating site. It is a matchmaking platform where you not only enter your details, but also the details of the kind of person that you are looking to be hooked up with. That way, you get matched to the right person in as short a time as possible.
It is a very open site, open in that it accommodates people of all sexual orientations. For example, as you open the website, you will find that in the sign up form, you are given a few options about what you are looking for. For example, are you a man looking for a man or a woman looking for a woman? They will allow you to create an account with them.
Overview
Signing up for an account with Match.com is free of charge. You will find signing up very easy, a matter of minutes and you will be a member. However, be sure to create your profile with as many details as possible so that you can find as close a match as possible. If you look at any Match.com review that is posted on the internet, you will see that many people only have praise for this dating website. They cannot all be wrong. Thus, we can conclude that you can have a nice time on this site and that you can find a soul mate here.
Most people look for a site where they can sign up free of charge and then later on upgrade to a paid for account. In fact, match.com is the perfect site for that since it has both free and paid-for memberships. You can start with the free membership and then later on upgrade to the paid-for one, if you would like to enjoy using more advanced features.
Will you get value for the money that you will pay for the paid-for memberships? Of course you will, as you will see in the features section below. You can also be sure that Match.com is determined to make you meet with your soul mate, because they organize singles events for different locations. Stay logged on to their website to catch news of the nearest event so that you can go participate and enjoy yourself. You could meet the love of your life there … you never know.
Features
Where do we start on this section since there are so many features to look forward to on Match.com? For example, they have a very educational blog where you can get all the information that you would like to know about dating. In addition, there are other resources like articles to advice you about dating online. There is also some advice about online dating security and so on. In short, the people running Match.com do not only care about the experience that you get on the site, but they also care about how you enjoy your dating life after meeting a mate on the site.
There is MatchMobile and this means that you can access the site on your mobile whenever you are on the move. If you opt to use it, you will find it light and accessible enough for your smartphone. You can date even when you are on the move.
When you are a free member you will get to enjoy features like basic matchmaking features, you can send winks, create a profile and upload photos, you can also use their smartphone app and receive winks.
With the paid-for membership, you unlock many features. For example, you can instant message other members and they can also chat with you. You can also keep track of the people you have connected with and better yet, you can even be invited to the live events near you where you can meet other Match.com members and mingle with them.
You will also enjoy the Match.com guarantee. Here, they say that if you are a paying member and you stay six months without finding a mate, they will give you an extra six months free of charge, with all the benefits and privileges of the paid-for members. It does not get any better than that.
Other features to look forward to include a very simple interface with almost everything you need displayed there on the homepage. In addition, there is 24/7 customer support and better yet, this site has subscribed to the BBB – Better Business Bureau to inspire confidence in its customers.
When setting up your profile, you will be asked to provide your location, gender, preference, intentions, profession, smoking and drinking habit, children, marital status, religion and so on. All these are required to give the other users a chance to know you and so that the software can match you closely to as many people as possible, people who have the same qualities as you do.
Cost
Now that we know you will unlock more features by paying a fee, what is the actual fee? You should know that the paid-membership will be renewed automatically. However, you can change all that under your account settings. You can also cancel the membership if you like.
How much will you pay? There are three paid membership packages. The three-month package will cost you $36.99, the six-month membership will cost you $59.99 and the twelve-month membership will cost you $89.99.
Can you cancel your subscription? Yes, you can, but you should read the terms and conditions governing this because if you pay and then you stay with the membership for a given time, then you may not get a refund. In that light, you may ask, is Match.com legit? Yes, it is.
You can also purchase gift subscriptions.
Verdict
As you have seen in this Match.com review, there are many benefits for signing up on this dating site and there are also some downsides, just as you would find with any other site. However, the pros are much more than the cons and therefore you can sign up without fear and join the millions of other people who have found love on this site.