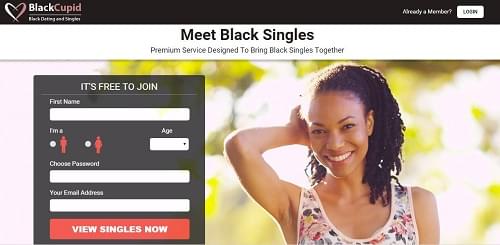 The game plan is … hit the show interest button and the person you are interested in will know immediately that you want them. Well, they will look over your profile, and then from what they find there, they will make a decision. This could be in your favor or against you. That is why you must create a great profile on the BlackCupid dating site. In this BlackCupid review, we will look at the features that make this a great site for online dating, whom it is targeted at, its costs and so many other things.
But first, the …
Overview
BlackCupid is owned and operated by Cupid Media of Australia. It is one of the many, more than thirty other dating sites that are targeted at different communities from different parts of the world. Therefore, like its sister sites, the features are just about similar to what you have been used to from Cupid Media.
BlackCupid is a niche website that is targeted at men who would love to find, fall in love with and eventually marry a black woman. Well, like they say, black does not crack with age and if such are your sentiments, then a gorgeous black woman from America, Europe, Africa, Australia or any other place is the kind of partner that you need to date and love.
Being a niche website, this means that at the core of BlackCupid, the profiles are for black women. Therefore, you can be sure that you will get the love of your life easily if you are looking for such. However, there could be one or two fake profiles, but weeding them out as soon as you start chatting should not be too hard. It will be easy for you to know whoever is not genuine.
The membership is big enough, in their thousands to bring you the best black women out there. Many men have found the love of their life on this website and there is no reason why you should not be lucky too.
There are two kinds of memberships – paid for and free or standard membership. With the free membership, you will get limited features but all the same, these are features that will enable you to get the woman that you love, albeit at a longer time. If you are a man however, it is much better to upgrade to a paid-for account because most women use the free memberships and two free/standard members cannot communicate effectively on the site. However, if one uses paid-for membership, they can communicate.
The paid for memberships have many features, but at a cost. However, what is a small fee for more features than you will ever have the need to use?
Features
There are many, but among the very important ones include:
Signing up is free of charge. You do not have to pay anything to be a member. So you do not need to have a credit card to sign up.
Many people ask; is BlackCupid legit? Yes, it is. The site is duly registered and emails and information passed between parties is encrypted. Thus, it is impossible to lose your identifiable information on the website unless you give it out voluntarily.
You can use the show interest button whether you are a standard or a paid for member. Many people find this feature very useful because it is free and acts as a good icebreaker.
Browse profiles and look at the uploaded profile photos before you can decide whether to start communicating with that person or not.
The dating and advice blog provided will teach you many important things in online dating. If it is your first time, it can be a bit daunting, but with such assistance, you do not have to date blindly.
Standard members can read the emails they get from the paid for members. This means that as long as one is a paying member, real communication can take place
Paid membership comes in two – Gold and Platinum. Gold members enjoy all the features that the standard members enjoy. In addition, they also get an ad-free browsing experience on the site, can read and send emails to all members, instant message members and do much more. Simply said, you can increase your chances of getting a black single to love you than a person who is a standard member.
Platinum membership costs more than Gold membership, but it has more features. For example, there is profile translation, video chatting and all the features that standard and Gold members enjoy using.
BlackCupid.com is a matchmaking site because the software will match you to the person with a personality as close to yours as possible. It is recommended that you fill up as many details as you can.
There are different ways for you to search for matches. For example, you can search for them by age, gender, location and photos. This is pretty much all that the standard users get. However, the paid users get to use the advanced search features like keyword search, recent activity, nationality, height, ethnicity, drinking or smoking habits, appearance, culture and so on.
Users learn how to use the site from a simple video introduction that is right there on the home page
Signing up is so easy. Just enter a few details and in a minute or so, you are already a member and can start sending interests
Create a unique personal profile with photos
Costs
Standard membership is free of charge. Gold and Platinum memberships are paid-for. Here are the costs for each of them:
Gold membership
1 month costs $14.99
3-month package costs $24.99
6-month package costs $49.99
12-month package costs $99.99
Platinum membership
1 month costs $19.99
3-month package costs $29.99
6-month package costs $59.99
12-month package costs $119.99
Verdict
In this BlackCupid review, we have tried to be as exhaustive as possible and everything that you see here is true. It is targeted at the black community or anyone who could be looking to date from the black community. It brings a big collection of black singles and if you are looking for one, sign up today. It is free.