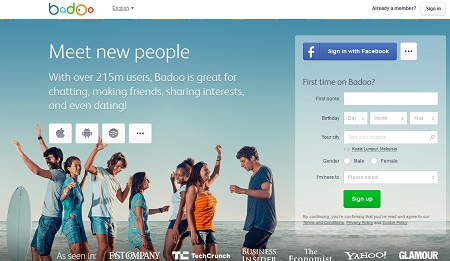 Badoo.com is a dating giant. It has been around for some time now, and it has been enabling people from all walks of life to meet and find their soulmates. It has been around for more than 10 years. How has the site been serving people for those many years? That is what we are going to investigate in this Badoo review. What kind of experience should you expect from this site? Is it worth it? How much money are you going to pay to enjoy premium features?
One thing that you will realize when you join Badoo is that it is a social network that is a dating service at the same time. Therefore, even before you can create an account and join the network, you will be able to view profiles of people who are already on the network. Depending on your IP address, the software is going to bring you people from your local area.
Overview
With the membership on this site running into hundreds of millions, there is every chance that you will meet the love of your dreams here. This is a very popular site that most people swear by and yet others swear against. It is important for you to take everything that you find on the internet about this site with a cool head. For example, some people say that if you are not a paid-for member, the best that could happen to you is a hi, and that is that. However, some say that even for free, you can get a date. Really!
But Badoo is not a dating site only, because it is also a social media site. Very popular in South America mostly, this site is used for picture rating. For example, you can rate a person as "hot" or "not". The jury is still out there in the woods about the state of Badoo, that is, is it more of a social media site or a dating site? Well, while the creators say it was supposed to be all of those, the truth is that it is more of a dating site, one, as you will see here, that has many benefits.
Badoo is a fast mover. When you are looking over the site, you can even view people from your area who are already using the site. You will then be able to make a good decision whether to join the site or not. In addition, you will start getting messages from people as soon as you sign up. Note that most of these messages are not filtered as you will be contacted by people from all over, not only from your locality. Thus, you will have to discard some of the messages as spam.
However, note that there is a security feature that allows you to either set your profile to private or public. If you keep it public, you will get a lot of spam mail.
Features
There are many good features on Badoo.com to write home about. However, is Badoo legit? Well, of course it is. I mean, it has been in cyberspace for more than 10 years now, and therefore if it was scam site, it would have been pulled down long ago. Again, consider the fact that this site has more than 300 million members and counting.
You can upload pictures and videos, you can chat with people and you can make friends easily on Badoo. You will love the site for its ease of navigation and the good thing is that you will access this application from different mobile and computer technologies. For example, you can access the site on android, iPhone, Windows, desktop application and Facebook.
What mostly sets Badoo apart from the other dating and social media sites on the internet is the Bumped Into feature. This feature brings you the profiles of people that you may have bumped into locally.
You can use the Spot Light and the Rise Up features will make you stand out even if you are the shy type and do not know how to break the ice. While you can like and look at profiles, you will have to pay to see who liked your profile.
And then there is the mobile Badoo site, meaning that you will not be confined to your computer to make friends and even find a soulmate on Badoo. You can access your account on your mobile even when you are on the go, through the Android and iPhone apps.
Sign up is so easy. You can sign through Facebook or you can create an account from scratch on the site itself. When you land on the homepage, you will find a simple sign up form, where only a few details are required like name and so on and you will be good to go.
Cost
As you have so far seen from this Badoo review, some of the features can be accessed free of charge and some can only be accessed after paying. How much does the paid membership cost?
Depending on what you pay, you are going to get credits. The site uses credits to allow you to access the upgraded features.
For example,
For just $1.99, you will get 100 credits
For $9.99, you will get 550 credits
For $19.99, you will get 1250 credits
For $39.99 you will get 2750 credits
You can pay for these services using the major credit cards, PayPal and even mobile phone payments, for example, for people in a country like Kenya.
Paying will unlock features like Spotlight and Rise Up that will highlight your profile so that you can be seen by many people. You will also be able to select more people in Encounters. Generally, you will be able to unlock many features that will make your profile even more visible.
Verdict
While Badoo appears to be a straightforward site, there are a few things that you should know. There is less privacy on the site since anyone can share your profile. Despite all the hype, the free membership is not worth much too since the features that you access are limited. Apart from those misgivings, Badoo is a great platform to interact with people, make friends and probably meet your soulmate too. You are allowed to like as many people as possible meaning that your chances of meeting the person of your dreams on Badoo are much higher than on many other sites.