There are many dating sites in cyberspace that are targeted at black people or people looking for black partners. But this does not make things easy for anyone since choosing the best black dating websites can be a bit hectic as all of them claim to be the best. Thus, you need to know the best site to subscribe to so that you do not waste your time or your money. If you sign up for an account on any of these sites that we have reviewed here, you are sure to get a partner. We bring you information that will help you to decide what site can work for you. You can check them out later in your own time to know more details.
Here goes: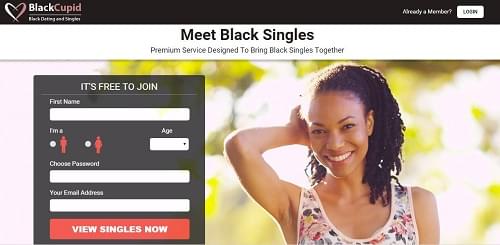 Blackcupid.com is owned and run by Cupid Media of Australia. This company has more than thirty dating sites, all of them niche-dating sites that are targeted at people looking for love and partners from specific segments of the community. Therefore, the BlackCupid website is a niche dating site targeted at people who are looking for an opportunity for interracial dating, or to find a black partner.
This site has many features. For example, you can send interest to as many people as you want, of course going by the pictures that you see of their profiles. You can also enjoy matchmaking features as well as sending and receiving emails, especially if you are paid-for member. More advanced features like video messaging, instant messaging, advanced match making features, translation into your language of choice and ad-free browsing are available for the paid-for members.
Creating a profile and uploading your photos on this website is free of charge. In fact, you are not even required to have a credit card to do that. Although this is a black dating site, you are welcome to sign up irrespective of your ethnicity. Do note however that the core of this website's memberships are black people and therefore you will only feel at home if you are a man or woman looking to have a relationship with a black partner.
There are different types of membership on this site. One of them is the standard membership which is also free of charge. Then there are two paid-for memberships – Gold and Platinum. Gold will cost you at $14.99 per month while Platinum membership will cost you $19.99 per month. You can use different payment methods like PayPal, money order, bank transfer and credit card. However, be careful not to "check" the "auto-renewal" option since the site will automatically renew your membership and charge you from your credit card. Paid membership will allow you to send emails to any other member. Even the free members can read your emails and reply. Thus, it is better to get paid-for membership so that you can enjoy more features.
Is blackcupid.com legit? Yes, it is one of the best black dating websites. Like all the Cupid Media sites, this one is genuine and when you use the paid-for membership, chances are that you will get a partner fast. However, even the standard membership can get you a good partner but it may take longer.
You will find a dating advice section and blog where they have uploaded many articles advising you on how to go about dating online. If you are a newbie in the online dating arena, this is the first section that you should read.
Some people have complained that there are fake profiles on the site, but that is something that you expect from any dating site. However, be cautious once you sign up. It is also better to be ready to date online, you know, know a few helpful tips as those will enable you to find the kind of partner that you are looking for fast.
In conclusion, many people have found love on the www.BlackCupid.com dating site and there is no reason why you should be any exception.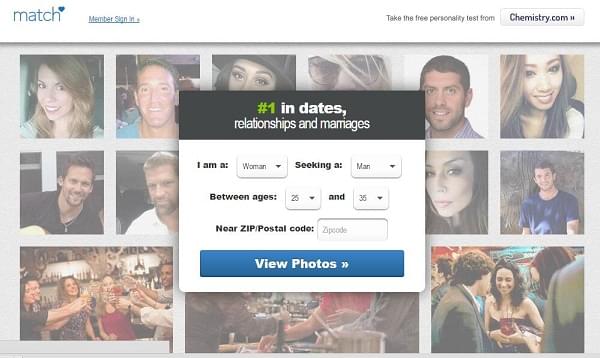 Match.com was established in 1995 and since then, it has been giving black singles from all over the world an opportunity to meet each other and date. This is a site that is targeted at black people to help them find love online. However, it does not matter what color your skin is because you are welcome to sign up and look for a partner. However, being a dating site for black people from all communities, you are going to find many black people on the site. Signing up is so easy, just fill up a short form on the landing page with a few details like gender, what you are looking for and so on and you will be signed up, free of charge. You will love it. Having been in business for all those years (more than two decades) this is one of the best black dating sites and it has some good features which we will look at here.
There are many features on Match.com, but the most outstanding of all features is the match.com guarantee. If you are a paying member and you do not find a partner in six months, then the site guarantees you free membership for the next six months, at the same level that you were before, enjoying all the paid-for features. This shows how confident they are that you are going to get your partner there.
This website is not dedicated to black people or people looking for black people only. There are people from all communities on this website and from different parts of the world. However, it features in this list of the best sites for black dating because there are many blacks on the site and every year, many black people meet their partners here. This site does is a platform that brings you closer to other people from more than 24 countries. Other than that, there is practically no interference from the managers of the site and therefore you can date whomever you like, when you like and whichever way you like. You will love the liberty that you get on Match.com.
This website is also available for mobile so that you can date even when you are on the go. Match.com also goes a few extra miles to ensure that you get just the right person. For example, it allows you to search for the right person in deeper detail than many dating sites that you have visited. Lifestyle is very important and that is why this site allows you to search using features like the frequency at which a person exercises, occupation, hair color, eye color and many more. You can also look for people with similar hobbies such as you. The inbuilt filter will bring these people your way.
The software is going to filter the emails coming your way such that only those from people who match your interests and personality as closely as possible are made readily available for you. However, the filtered emails are not discarded as you can access them in the filtered email folder. This feature is a time saver.
Although there is free membership on Match.com, to access all the features, it is better to pay. Extra features may cost more. For example, Top Spot which allows your profile to move to the top so that you can be visible to many people for thirty minutes will cost you an extra $3, while opting for email notifications will cost you $4.99 per month. If you would like your profile highlighted, you will pay $4.99 every month. Prices may change from time to time and from region to region. For example, Premium members from Canada and the US pay $20.99 per month.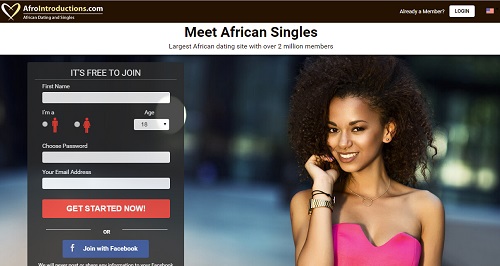 Just as its name suggests, Afrointroductions.com is one of the black dating sites whose core membership is made up of African-Americans and Africans. It is intended to assist people looking forward to dating African-Americans and African partners find their soul mates. Since its establishment in 2002, it has connected many people. However, it is not targeted at people with African roots only. Not at all. Anyone can join and find a partner there if they are looking for one from African countries or the USA.
Like all Cupid Media sites, AfroIntroductions also offers you an opportunity to try out the site for free, so that once you see how it works, you can then go ahead and try out the paid-for memberships. There are some features missing from the free membership and therefore you are advised to try the paid-for memberships if you can afford it because then, you will meet more women faster. This website has many profiles of women from the Caribbean as well as from America and Africa. Like with many sites, it is better for you to pay up so that you can communicate with everyone who captures your fancy.
As a free member you can send emails, you can also receive emails from other members, but you cannot read them unless the person sending the email is a paid-for member. However, you can do many more things like send interests, browse profiles and look at photos. You will get to use the basic match-making features. With patience and time, you will eventually meet a person even when using the free membership.
It is the paid for memberships which are Gold and Platinum that carry the day, with their features of course. These memberships allow you an ad-free browsing experience, advanced matchmaking features so that you can get a person who is as close to your personality as possible, read and send emails to any other member and so on. For the Platinum membership, you will get other extra features such as profile highlighting and translation of profiles into your language of choice.
How much money will the paid membership cost you? Gold members pay $29.99 for one month, $59.99 for three months, $99.99 for six months and $119.99 for one year.
Platinum members will pay $34.99 for one month, $69.99 for three months, $119.99 for six months and $149.99 for one year subscription.
Is it worth it signing up for an account with Afrointroductions.com? Yes it is. The site is legit, but there could be a few fake profiles. It happens, just be cautious.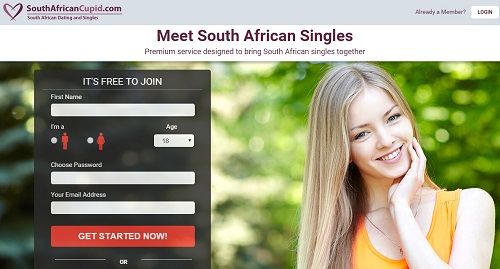 SouthAfricanCupid.com is a niche dating website that is designed for people who are looking for love and partners from South Africa. A country that is very cosmopolitan in nature hosting people of different ethnicities, if you would like to add some spice and warmth to your life, this is the website to sign up on so that you can enjoy a great time dating online. Like all the Cupid Media sites, this one has a simple interface and you will find it very easy to use. Just create an account with them free of charge and then to make things even better for you, you can browse around free of charge until later when you decide to upgrade to a paid-for account.
There is the standard/free membership and then there are two paid-for memberships. Many people prefer to start by using the free membership and then later on, they upgrade to the paid for accounts after they see that the site can meet their needs. From the standard membership, you will enjoy using a few features, but features that will get you a soul mate all the same. You can browse profiles, look at photos and you can even contact the owners of the profiles. However, they will only be able to read your message if they are paid members. Two free members cannot communicate with each other effectively. Therefore, if you are a man looking for a woman, it is better to upgrade to paid for accounts since the core membership of the site is women from South Africa and they are most likely to be free members, well, most of them.
The paid-for members get to enjoy more features and this well justifies the cost that you will pay. For example, their profiles will rank higher than the free members and that means they will meet their partners much sooner. Also, paid members enjoy an ad-free browsing experience and they can send and read emails from any member on the site. They also enjoy profile highlighting, profile translation as well as video chatting. You can also choose to communicate with members who are online at that time, upload many photos and so on. There are so many benefits that come with being a paid-for member.
How much will you pay to become a paid member? Not a lot! For example, Gold members will pay $24.99 per month and if they opt for the yearly package, they will pay just $8.33 per month. Platinum users on the other hand pay $29.99 or a monthly package but will pay $9.99 if they opt for the yearly package.
5. Blackpeoplemeet.com

When you login to Blackpeoplemeet.com, the first thing that greets you is a video of a jovial couple saying how they met on the site and fell for each other. The interface looks very good and it is not cluttered at all. Just as its name suggests, this is one of the best black dating sites that have been designed to provide the African-American and other black communities in the world a place where they can meet, mingle and eventually date. The core membership is black people from the US and Canada, but that does not mean that you are restricted if you are from other ethnic groups. It is meant for anyone who could be looking for a black partner.
When creating a profile on Balckpeoplemeet.com, you will notice that they ask you for more details than the other sites. They do the same with everyone to help people find partners who are as close to them in personality as possible. They will ask you the questions one by one, be sure to fill everything you can to enhance your chances of getting a partner.
This is a paid-for site, but everyone starts out as a free member and then they upgrade later. The features that you enjoy as a free member include flirting, accessing and bookmarking profiles for later use, create profile and so on. However, note that you cannot communicate with the others if you are a free member.
As a paid-for member, you will have access to many more features. For example, you can send, receive and read messages from all members. You can also video chat, instant message and do everything that a free member can do.
It does not matter if you are divorced, single, widowed, lesbian, gay or bisexual because this dating site is made for everyone.
The cost is $14.99 for a monthly package, $35.97 for a three-monthly package and $62.94 for a six-monthly package.
Conclusion
From these reviews, you have seen the five of the best black dating sites. Now you can be able to choose the one that catches your fancy going by the price and the features. Online dating works, especially in these days when there is simply no time for people to date conventionally. Try these sites out if you would like to meet a black partner.