Just what is it about Korean women that makes many websites dedicated to them on the internet go viral?
Why are Korean women so sought after as girlfriends or wives, especially by foreign men, and seemingly more so by men from the US?
Well, we're now going to try and summarise the top 10 pointers see if we can find some sort of consensus answer to the questions in the paragraphs above.
1. Beautiful Korean Women are everywhere
It's true that beautiful Korean women seem to be everywhere you look in the country—in major cities such as Seoul, Busan, Pusan, but also in the smaller towns and provinces.
Yes, we know beauty is in the eye of the beholder, but there does appear to be an extraordinarily high ratio of hot, sexy Korean women in the country. In fact, there are not many countries such as Korea where the typical list of beautiful women runs into the 100's; elsewhere, normally, such types of list contain the top 10 or top 20 attractive women.
2. For Korean Women keeping beautiful is almost a national pastime
Some people have been quoted as saying said that being beautiful for a woman in Korea is a national pastime—maybe that's one reason why there are so many beautiful starlets and new and established stars forever appearing on TV or at the cinema.
One reason for this is that, since the late 1990s, Korea has had a very popular, active domestic film industry, partly due to the government's "screen quota" policy, limiting the number of foreign films that can be shown in Korean movie theatres in a given year.
3. Famous Korean actresses you probably know
This, in turn, forced local films to the fore and has given rise to a number of internationally recognised, beautiful Korean actresses such as Kim Yoo Jin (known as "Eugene" outside of Korea), a former pop singer who has transitioned into a film and TV actress, and Shin Min-a a former model who featured in the comedy Volcano High; plus others such as Kim Tae-Hee, Kim Hee-Sun and Han Ye-Sui.
4. Single Korean Women are friendly and keen for contact with foreigners
Many single Korean women are comfortable with western cultures, perhaps having learned to speak and read English from an early age, maybe having been brought up to be aware of foreign fashions, trends and influences, or even studied overseas at one of the UK's or US' Universities. Deep down, however, many Korean women remain loyal to their Asian Confucian values and traditions and can be quite conservative at time in certain aspects of their outlook on life.
Getting to know a suitable single Korean lady in the big cities can be a challenge, unless you are living there and this is why many foreign men turn to one of the popular Korean women dating sites where full details of such women looking for their life partner from overseas are available.
5. Dating Korean Women online
Dating a Korean woman online, using sites such as the very popular Korean Cupid or maybe try Ublove There are also sites such as Badoo or Kakaotalk which provide Apps to be downloaded to help you find and contact attractive Korean girls. Clearly, internet dating increases the chances of finding someone much more compatible, as the lady's likes and dislikes are known in advance. It also mitigates the chances of finding and/or meeting lady who, for some reason, may not suit.
6. Both regular Korean brides and mail-order brides have a good reputation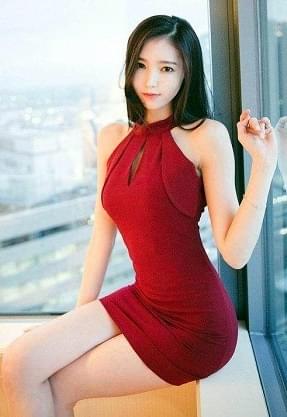 Not surprisingly, both regular Korean brides and mail-order brides from Korea enjoy an enviable reputation amongst many foreign men.
Their virtues have been well documented over the last 20 years or so and there seems to be an everlasting appeal of Korean women to men living in overseas countries.
Looking at things on a more micro level, Korean brides are generally thought of as being driven, keen on finding success, independent and relatively well educated—all attractive character traits in a woman from the perspective of a foreign man.
7. Large overseas Korean communities
In addition, amongst the myriad of possible reasons for such positive reputation is, perhaps, also something to do with the well established overseas Korean communities in the US, European or Australia which has given many generations of foreign men the opportunity to interact with Korean women. Interracial dating and marriage between Korean women and foreign men has, as a result, become relatively commonplace in some locations.
8. Korean wives offer a myriad of characteristics
Korean wives mean different things to different men. Some go for the physical aspects: the usually slim physique, the relatively tall stature (for Asian women); the long dark hair, the inherent, fine beauty.
Other are more attracted to the top three or four characteristics they expect in a Korean wife such as loyalty and support through good times and bad; the devotion to a family-centric environment, where not only the immediate family but also the extended family is very much the centre of life.
9. Korean women are very driven and determined
Then there is the renowned drive and determination of Korean women both to succeed in their chosen careers but also, importantly, to ensure good education for the children of the marriage.
10. Many Korean women are already in mixed race relationships
It's possible to continue enumerating the attributes of Korean women but our philosophy has always been that the real proof of attractiveness of Korean women to men outside of Korea is clearly demonstrated by the huge number of mixed race relationships and marriages. Foreigners continue to marry Korean women in Korea in increasing numbers but also there are almost as many relationships between second and third generation Korean women overseas countries to consider.
Whatever your reasons for finding and selecting a Korean woman to be your life partner, you can be sure that many foreign men have been down the same pathway before you! Of course, in addition to the 10 amazing pointers listed above, there are plenty of other advantages of dating and/or marrying a Korean woman which can be added to the list.