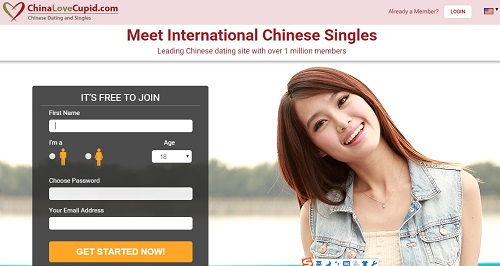 On this ChinaLoveCupid review, we will show you the pros and cons of signing up on this website to look for love. With many other dating sites in cyberspace, why should you sign up on this one? What kinds of features are you going to enjoy? Well, there are many things to look forward to. Firstly, this is a niche-dating site. Do you know what that means? It means that you get what they say you will get. For example, its headline, as you will see once you get to the homepage is "Meet International Chinese Singles". This means that if you are out of China, you know, you live in America, for example, but you are Chinese, well, you will want to know whether this is the go-to site for the love of your dreams. Most likely, it is, but then, perhaps it is not, you never know, until you read a review like this one. The good thing is that we did try to use the site and therefore we are going to give you a user-based experience.
Overview
Online dating is very much a visual activity, just like conventional dating, that is, you have to see to believe. That is why when a person creates an account on a dating website, the first thing that they consider is the structure of the site. Is it easy to navigate? No one has time to waste. Is it attractive to the eye? An unappealing site means there could be many unappealing people on the site.
I would say that the website is very appealing. Firstly, everything is on the homepage and by everything, I mean practically everything that you might need to know. Therefore, right from the homepage, you will access the terms and conditions, testimonials, a sign up form that is very simple as you just have to fill in your email, name (first name only) and then you can create a password and bingo! Just like that, you have your dating account, ready to start mingling with people.
But wait, that is too basic, isn't it? After you sign up, you will be prompted to create a profile, Make it as appealing as possible. Upload a good, recent photograph of yourself, with a lovely background, mostly in the outdoors, as many people love such photos. After your profile is completed, you are ready to start looking at other profiles. Just look at the photos of the gorgeous women posted on the site. These will practically charm you out of your pants …oops I meant to say wits. Are they real? I mean are there real profiles behind the photos? Maybe yes, maybe no, story for another day that one.
On the home page still, a short video teaches you how to create a profile. A couple of security icons show you that the site is secure. Now, with that in mind, we are ready to get started, but not before we know the features.
Features
Every niche-dating website should have certain features and ChinaLoveCupid does seem to have more than its fair share of great features. For example, one of the things that they have included here is the translation of the site to many different languages like German, Italian, French and of course, Chinese.
Where you will be filling details for your profile is also the same place where you will fill details about the kind of woman that you are looking for. The more details you can give here the better because this website is a matchmaker where you will be matched to as many people as possible.
You are allowed to choose the membership level that befits your budget. First of all, there is the standard membership where you pay nothing. If you are here for fun and would like to have a feel of how niche dating sites work and then upgrade later, this is the membership level that you should go for. It does not offer as many features as the paid-for memberships but hey, it is as good a place to start dating online as any. Therefore, you can sign up without fear.
Other memberships include the gold and platinum levels. For the gold level, you can access instant chat, no ads, send interests to the ladies that you love, send messages and receive messages from all members, even the basic members.
For the platinum membership, you will get everything that the gold and standard memberships offer, but with added features like advanced matching features, no ads, and translation into a language of your choice. However, you will pay more.
Cost
Basic or standard membership is free of charge. You pay nothing, but you get fewer features as you can only send interests, get basic matches and send messages to the paid-for members. Your profile is also highlighted to make it stand out and therefore you can get what you are looking for much faster. That is it.
For the gold membership, you will have a few options to pay up. The first one is the one-month option which will cost you $29.98 and then after it is over, you will decide whether you would like to continue or not. For a 3-month subscription, you will pay $59.99 saving a good amount of money. For a 6-month subscription, you will pay $99.99 and for the annual subscription, you will pay $119.99.
For the platinum membership, the costs are somewhat higher as would be expected. For 1-month subscription, you will pay $34.99. For the 3-month subscription, you will pay $69.99. For the 6-month subscription, you will pay $119.99 and for the yearly subscription, you will pay $149.99.
Is the paid-for membership renewed automatically? Yes, unless you opt out of the auto-renewal option. Payment options include the major credit cards and PayPal.
Our verdict
Is ChinaLoveCupid legit? Well, from the look of things it is. There are reports about scams, but hey, it is a dating website and if some fat mamushka decides to use the photo of her slimmer self from twenty years ago to find love, that alone cannot make you go singing it is a scam. If you would love to find an English-speaking Chinese soul mate, this is the right website to sign up.