The AsianDating.com Review That Reveals Everything!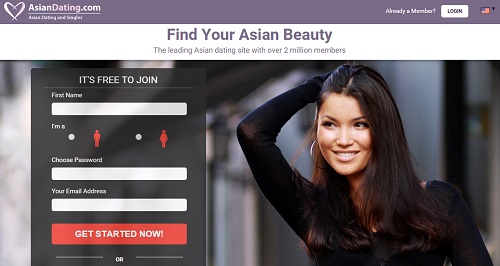 With so many dating websites in Cyberspace, it is nary impossible to choose the best one since they all claim to be the best. Seniors, youngsters, young professionals, widows, widowers, divorcees and even people looking for romance without attachments look for their soul mates online. With the flexibility that online dating as brought along, many Asian professionals working abroad look for love from their countries online. Today, niche dating websites are many, specializing in one type of people to make your search for a soul mate easier. With many online dating websites dedicated to helping you find Asian partners, there is a need to sign up on the best one of them and that is why we decided to write this asiandating.com review to help you along. Keep reading.
Overview
From the word go, asiandating looks very easy to navigate. The first thing that you see is the signup box where you will be required to fill in details like first name, email address and your gender. With those few details, you will be a member. Of course, when you have signed up, you will be required to complete your profile by uploading a picture, details about the kind of person you are looking for and so on. You see, this is not just a dating website, it is a matchmaker where the software takes your details and matches you closely to people who have the details that you have filled in like height, eye color and so on. Thus, it is best to be keen when you are filling up these details. At the far right at the top, there is a small flag icon with a drop down menu. This one is going to let you choose the language in which you would like to access the site. The languages included are Dutch, Norwegian, Italian, French, Portuguese, German and so on. The default language is English.
Right there on the home is a well-detailed video that shows you the steps to follow to get started on the dating website. You will find them pretty simple. At the bottom of the homepage, you will find a long list of other similar dating websites, actually sites owned by the same company. Thus, should you change your mind and decide to do afrointroductions instead, you are at the right place.
In three simple steps, you will be on your way to dating the Asian or other person of your dreams. Just sign up and create a good profile, then browse the photos of other members and start communicating with the people you like. As easy as that, you could find the partner of your dreams in a short time.
Asiandating.com features
What are some of the features that you will enjoy on asiandating.com? There are many!
They say they have over 2 million members and such a wide base would be great to give you an opportunity to try your luck with as many people as you think you match with. However, note that there are different types of memberships and that the one you subscribe for has different features.
There is the free membership firstly, and like free memberships elsewhere, it really does not allow you to do much and you do not access any worthwhile features. You can however send messages to paid-for members, show interest and get basic matching features.
It is in the gold and platinum memberships where you get to unlock the real features of this site. For example, the gold membership allows you to communicate with all the members, both paid-for and the free ones. You also get access to chat through instant messenger and your can send, receive and read messages. You can send interest to your prospects and at the same time, there will be no ads.
For the Platinum Membership, you get all the features of the basic as well as the Gold memberships, plus many more. What extras do you get? Firstly, you are a Platinum member, therefore you will rank higher than the gold and standard members. You will have more chances of getting a match. You will also get no ads to disrupt your browsing experience on asiandating.com. Advanced search features that will allow you to narrow your search as much as possible are also available for the Platinum members. You can translate the messages you get into your own language and since you will get better matching features, you will get as close a match as possible.
Asian dating costs
Having seen the features that you will enjoy from this Asian dating review, you must be wondering about the cost that you will pay. Of course, the best costs more, but if you will get more than the full value for your money, then it is worth it.
Basic or standard membership on Asian dating is free. You do not pay anything, so you get fewer features.
Gold membership is going to cost you $34.99 if you opt to subscribe for one month only. However, things get cheaper from there as a three-month subscription will cost you $23.33 per month while a 12-month subscription will cost you $11.67 per month. You can contact them for a better breakdown of the prices.
Platinum membership
You can pay for one-month subscription, which will cost $39.99. Then there is the three-month subscription that costs $26.66 per month for which you are required to pay a one lump payment of $79.98. For the annual subscription, you will be required to pay $12.50 per month in two payments. The first one will be for $100 and the second one for the remaining $49.99.
Methods of payment include PayPal and most of the major credit cards.
Our verdict
In this asiandating.com review, you have seen the features of different types of memberships and the amount of money you will be required to pay for them. Overall, we would rate this site 4.90 on a scale of 1 to 5. It is very easy to navigate and signing up is so easy. As for the question that many people have in mind; is asiandating.com legit? This site is genuine and many people have found their soul mates there.