Today, with the development of China's economy and the popularity of western culture in China, many Chinese women, especially those in big cities, tend to hope to live better life and look for a foreign love. Chinese women are good partners for dating and long time relationship. They are attractive, smart and loyal. However, finding a Chinese love seems to be a big challenge for those who live far away from China, but it's actually relatively easy today. With the boom of online dating services, many Chinese ladies resort to the internet and hope find their love online. There are great chances that you will find your ideal Chinese partners online.
If you want to find a Chinese love, you should stay away from general dating sites like Match.com or eHarmony and use those sites which cater specifically to Chinese women who are looking for Western men. Here we make a list of the top 6 best Chinese dating sites review, check it out and find your Chinese love now.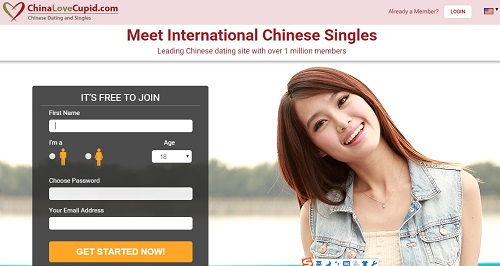 ChinaLoveCupid is the biggest English language dating site which focuses on connecting Chinese ladies with expats in China or foreigners outside of the country. It has more than 1 million members.
Today more and more Chinese are open-minded and are interested in the western way of life. They hope to learn about the outside world, make friends or even marry foreigners. When looking through the profiles on ChinaLoveCupid you will find that many Chinese girls have good English skills and can communicate with English speakers easily. Many of them are probably well-educated attractive working women in big cities. They are more open to online dating and hope to find exotic foreign love.
The site supports Chinese, Japanese, English, Dutch, French, Spanish and many other languages. And it also has Android dating app now which will make you communicating much easier.
The site is easy to use and signing up can be very quick. But remember that a detailed profile will greatly improve your rate of getting response. So it is worth spending some effort to complete your profiles. The site has many useful functions such as sending a "like", sending messages and search function. It also provides an automatic language translation service.
Signing up is free, you can have its basic functions, but if you are serious about dating and hope to find your love soon. You'd better update to a paid member with just a few bucks. The best price is the one year package for as low as $10 each month and there are no recurring fees here.
In conclusion, ChinaLoveCupid is the best dating site for foreigners to find Chinese girls. You can have very good experience with a really reasonable price. It is the best option if you do not actually read and write Chinese.
Click on the button below to check out ChinaLoveCupid for yourself…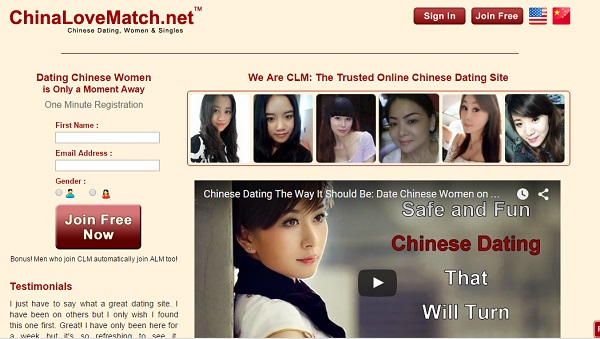 ChinaLoveMatch is a trustworthy dating site that I strongly recommend. It is a completely open and spam-free site. Singing up is free and you can browse overwhelming amount of ladies.
A man must become a paying member to contact female members (Most of the women have free accounts) and you can read unlimited emails from unlimited ladies without extra charges, video chat with girls and know exactly who are really talking with.
The site provides automatic translations for letters and live chats. I really suggest you chat with the women via video as you can learn more about the girls that words can not say and decide if she is the one for you. If you are sincere and make the women comfortable, usually you will soon get their personal contacts such as QQ or Skype account.
If you are seeking an honest Chinese dating site, I suggest you check this site out. The site has very strict screening policy,they will remove the scammers immediately and put it on their jail page. They also offer blogs and dating tips written by founders or members to help those with different backgrounds.
In conclusion, we recommend you have a think about ChinaLoveMatch. It is a legitimate Chinese dating site that you should check out. Click on the button below and check out the profiles of thousands of beautiful Chinese women for yourself…!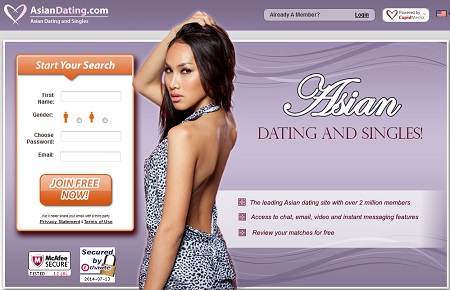 AsianDating.com is a popular dating site which connects Asian singles to singles in the west. It offers multi language versions with a wide range of cool features
It is free to sign up and a free membership allows you to send and receive e-mail from other members, but at least one of both must be paid members. Since most female members are free members, you'd better upgrade to a paid member which allows to contact all (free and paying) members and you can use instant messaging chat and live video chat.
Asiandating has a large member pool. At present there are more than 2.5 million members on its platform, which gives you a lot of choices and improve your potential success rates.There are so many people from different backgrounds and regions, so communication is a problem for those with different languages, but no worry, its internal translation service can keep your mind at rest.
With a very nice free membership option, you can have fun and enough features to explore the site free and then decide if you will become a paying member. With so high member numbers, you can talk to as many free and paying members as you want.
Asiandating now has an Android App available on smart phone which makes you much easier to look for and find your potential love online. It supports all major languages including English, Japanese, Dutch, Spanish, Italian, Portuguese and many other languages.
Over all, Asian Dating is a fun and the best place to find your dates from Asia and around the world. Click on the button below to check out Asian Dating for yourself…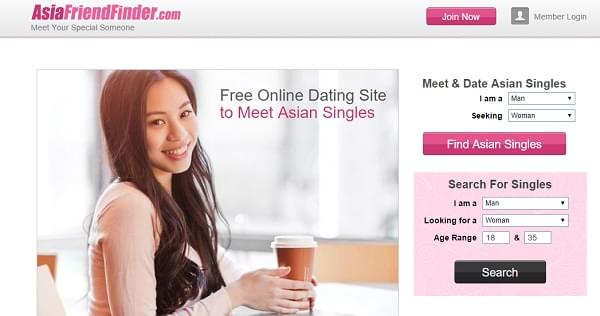 AsiaFriendFinder.com is one of the biggest online dating sites created for the Asian community especially for Chinese people and foreigners. The site has two language versions – Chinese and English.
The site has more than six million members across the world, most of its members are from China, Hong Kong, Taiwan, United States, Australia and Canada.
It is free to join and you can search for singles living in your area immediately, you can check others profiles, but if you want to communicate with other members, you need to upgrade to a paying membership, which allows you to use a variety of communication tools such as email and chat rooms and even video messaging.
The staff of the site will review all new members' profiles and delete those fake profiles. They will also remove profiles inactive for six months from their system. This makes sure that you will speak to the real person instead of fake members.
The membership fee is also favorable with just $5.99/month for 12 months package. Considering it has so many members there, it is worth giving it a try.
The following two dating dating sites are all in just Chinese language, go ahead if you know some Chinese language.
5. Jiayuan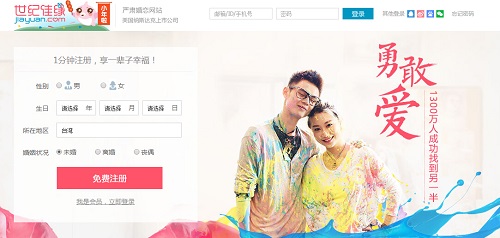 Jiayuan.com is China's biggest online dating site, which provides serious dating service for singles in mainland China, Hong Kong, Macao, Taiwan and other countries and regions in the world.
Jiayuan has more than 100 million registered users and the majority of its members are highly educated white-collars in cities.
Jiayuan is the earliest dating site in China that requires members to submit identification documents and use stars to assess the member's credit. Each member's profile page will indicate whether the member has uploaded a certificate. The certificate directly reflects the authenticity of the member information. It even uses manual review to maintain the quality of all members to ensure your dating a pleasant journey.
Due to the high quality and simple motivation of members, an average of 5000-8000 people change their membership status to "I found my love" on an average day. The website receive many thank you letters and wedding dress pictures from members every day.
It also holds about 1,000 offline dating events in more than 100 cities in mainland China.
It has both iOS and Android dating app available.
6. Baihe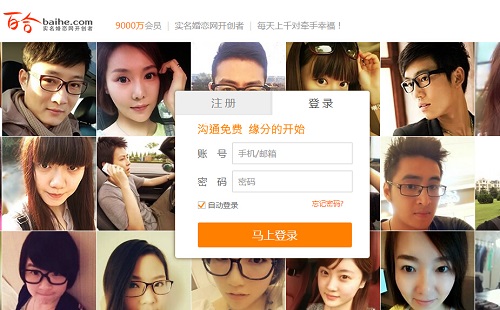 Baihe.com is China's first real-name dating service provider. It features for its unique "soul matching" model in China. There are over 90 million registered users who are looking for their life partner on Baihe. It is the second largest dating site in Mainland China. You can try if you know some Chinese language.
It requires real name authentication and you can search for others, see who are interested in you, talk with other members.
Here dating is a serious business on Baihe, and they launch much resources to make the dating more effective, this attitude is what sets it apart from other Chinese dating apps.
It has both iOS and Android dating app available.
Tips of Dating Chinese Women
1. Give more details about your self and upload some lifestyle photos. A detailed profile with some photos will make female members feel that you are serious and sincere about looking for a Chinese wife.
2. No matter which Chinese dating site you are using, it is important to be aware scammers. Though unlike Thai and Filipino dating sites, there are less scammers on Chinese dating sites, you still should be careful about it. Stay away with the members who just a one or two attractive photos, there is a great chance that they are scammers. Remember that never send money to your dating partners no matter how attractive she is.
3. Having a relationship with a Chinese woman can be complex, especially you know little about Chinese culture and can not speak Mandarin. But with some simple search and a little bit of knowledge and preparation, you may have a expecting romance and even find your true love!
4. A live video chat is a good way to learn about your dating partner soon. It makes sure you are talking to the real person and help you learn more about the lady soon.