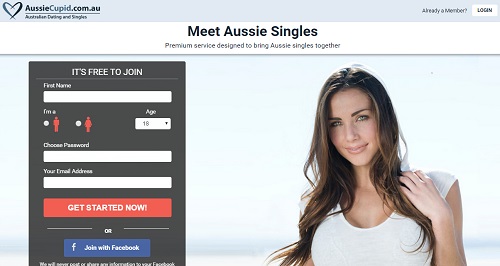 From the vast, wild, hot, and free-spirited Australia, this AussieCupid review brings you important information about how you can meet beautiful great singles from this side of the world. There are many singles living in Australia and like America, Australia is home to almost everyone. I mean, people move from their home countries to live there all the time, making it a mix-pot of cultures. Therefore, while AussieCupid is a niche dating website to help connect you with singles from Australia, be ready to go international since there are people from every race, creed and religion in Australia. This is an international dating site, but with more preference given to Australian single women.
What does this mean? It means that most of the profiles that you will find on the site are for women singles from Australia. Therefore, if you are a single man from Australia or any other part of the world and you would like to get hooked up with these women, this website gives you the opportunity for that. But there is more to it than just that, as you will see in the sections below.
Overview
AussieCupid.com is a niche dating site that was established to assist the Australian singles meet and date. However, over the time that it has been in business, it has been connecting Australian singles with other singles from many parts of the world. Since Australia is a land of variety, you can expect to find all sorts of single people on the website, of varied ages and interests too. Just make sure that you fill up as many details as possible so that the software can match you to the person who has a personality that is as close to yours as possible.
The people behind the profiles are real. Well, there could be two or three fake profiles, but that is common with all dating sites. However, you are advised to be cautious when meeting people that you mingled with online. As it is with all the Cupid Media dating sites, you will have a great time on this website.
It does not matter whether you are looking for love or friendship online because this website is going to give you the features and ample time for that. And the good thing is that as soon as you sign up and upgrade your account from basic to paid-for, you will get a clean, ad-free browsing experience on the website.
There are three types of membership on this website. The first one is basic, and free of charge. In fact, that is the best way for you to get a feel of the website to find out whether it is good enough for you and then later on, you can make your decision to upgrade or stay with the free membership. The Gold and Platinum memberships are paid-for, and at different prices too with the latter being more expensive. However, one thing that you can be assured of is getting more than enough value for your money.
If you would like to unlock more features and to make your search for friends or for a lover faster, then I suggest you try the paid-for memberships. You can start with the Gold one since its cheaper and in any case, there is no big difference between that and Platinum, except a few extra features.
With one word tags for personality, you will be able to find your match faster because you will be brought other profiles of people who have tagged the same words.
Features
If you are a free member, you will get basic features, but features that work very well all the same. However, you will have to be more patient because it may take longer to meet a match. You get basic matchmaking, you can view profiles, you can send interests to all members. However, when you get a message, you cannot read it unless it has come from a paying member. When you try to send an email to another free member, you will be allowed to, but you will be told to upgrade so that the recipient can read the email. In other words, two free members cannot email one another.
Paid for members can read and send emails to every other member, even the free members. In addition, they can send interest to any member and most importantly, they enjoy an ad-free browsing experience. Platinum members get profile highlighting and they also get to translate messages into languages of their own choice. They can also video chat with each other and can instant-message as well. Their profiles are searchable, meaning that they rank higher than the other members.
As you can see here, it is best to just pay the fee and get a friend or a soul mate faster than when you are using the free membership. You will enjoy your time there but to increase your chances of finding a person for you, just chat with several people and then narrow your choices with time. Flirt with many women, have fun too.
Costs
It is important for you to note that renewal will be renewed automatically, but you should opt out of it. Make sure that the renew membership automatically box is not checked. They also have a refund policy, but it is a tricky one with a lot of fine print, if you care to read it. Again, if you try looking up their payment information on the site, they redirect you to their login page. Why are they so discreet about costs then?
Here are the costs all the same:
Gold membership
$29.99 for one month
$59.99 for three months or $20 per month.
$99.99 for six months or $16.67 per month.
$119.00 for one year or $10 per month
Platinum membership
$34.99 for one month
$69.99 for three months or $23.33 every month
$119.99 for six months or $20 for one month
$149.99 for one year or $12.50 for one month.
Verdict
With more features for the basic membership than you will find on many websites, with prices that are fairer than what many other sites offer for the paid-for memberships, this is the site where you can find Australian singles and mingle with them online, as well as singles from other countries. Is AussieCupid legit? While it has its misgivings, this dating site is as fair as online dating sites come.
With one word tags for personality, you will be able to find your match faster because you will be brought other profiles of people who have tagged the same words.