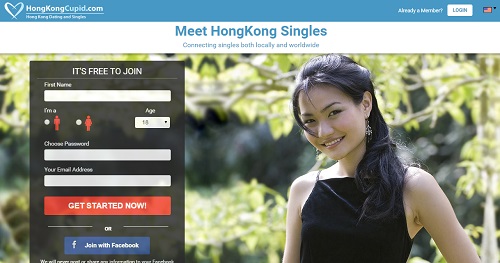 One of the most prolific online dating companies, Cupid Media, has brought you HongKongCupid, a niche dating website that is intended to make it easy for singles in Hong Kong and beyond to mingle. And so far, by the look of things, it seems to be doing a very good job of that because it has tens of thousands of users with many of them online at any one given time. That this dating site is run by Cupid Media, and is in fact one of the 35 dating sites that are operated by this company should give you confidence to sign up immediately if you are from Hong Kong and you are looking for a date online. But is it all that easy? In this HongKongCupid review, we are going to bare all. We will investigate this site, from the visible features to how it works. Does it make matches quickly? Let us find out.
Overview
The Hong Kong dating scene can be a bit chaotic, with many people leading busy professional lives that prompt them to look for love online. And that is what leads one to look for the best dating website on the internet, one that is dedicated for that region, for people from there and for people who are looking for friends, love and marriage partners from Hong Kong.
But being a niche dating website does not mean that you only find people from Hong Kong on the site. In fact, it is more of an international dating site where you find people from all countries in the world. However, since the site is targeted at helping singles from Hong Kong find love online, most of the profiles are from Hong Kong.
Is HongKongCupid legit? Of course it is, and for many reasons. One of them is that it is run by Cupid Media which, as we have said is one of the largest dating companies in the world. If you browse through the site, you will find that it is secured by the latest technology for encryption, meaning that your personal details are secured and that they will never land in the wrong hands. One more reason is that this website desists from offering too many services which are dubious in nature and which lead to spending too much money. Services like flower delivery, tours and so on are simply not available. Once you pay the membership fee, that is that.
Like other Cupid Media sites, HongKongCupid has different types of membership, both free and paid for. The free or standard membership will cost you nothing at all while the paid-for memberships which are Gold and Platinum will cost you a fee. But do not worry because you will get more than enough value for your money. You will love the experience that you will get on Hong Kong cupid.
Features
For free members
Compared to many online dating sites in the market, HongKongCupid is far ahead when it comes to the features. Even the standard members enjoy a great time here since they can get many features that they would not get on many other sites out there. For example, they can send interest, get basic match making features, create and edit their profiles as much as they like, send emails to the paid for members and so on. And the most important thing is that they can receive and read emails from paid-for members. However, when they get a message from other free members, they cannot be able to read it, but they will get a notification and then they will be prompted to upgrade.
Features for paid-for members
If the features for the free members are good enough to write home about, you should just see the features for the paid-for members. They are awesome and in a matter of a few days, one could be on their way out of the site having gotten their soul mate.
There are two paid-for memberships- Gold and Platinum. Both of them have their advantages, but the Platinum one has more features hence it costs more money. For example, you will get an ad-free browsing experience, you get profile highlighting so that you can get more views than the other members.
You can also chat with other members through video as well as instant messaging. You can also communicate with all members, even the standard members. You also get more advanced matchmaking features and all these are intended to make it easier for you to get love or marriage partner fast.
Whether you are looking for friendship or love on HongKongCupid, it is advisable to go for the paid-for memberships as they will make it an easy process for you. However, as you get a feeling of the site, you can start with the standard membership.
Gold membership also has great features. However, it does not have profile highlighting or video chatting features. However, you can communicate with all members, both paid-for and free ones. You can also enjoy instant messaging chats with other members and you can send interests, winks, view profiles and do much more. Many people who have been interviewed say there is no need to use the Platinum membership since it costs more and gives just a few extra features on top of the Gold membership.
The bottom line is that when you use paid membership, you increase your chances to get your soul mate on HongKongCupid. When you use free membership, you will still get a soul mate but it will take a longer time to do that.
Costs
Standard membership is free of charge. Gold and Platinum memberships have a fee as shown below:
Gold membership comes in four packages that cost $29.99, $59.99, $99.99, $119.99 for one month, three months, six months and one year respectively.
Platinum membership also comes in four packages that cost $34.99, $69.99, $119.99 and $149.99 for one month, three months, six months and one year respectively.
Verdict
There are many reasons for you to sign up for an account on HongKongcupid.com. One of them is that you need a soul mate, a friend or a lover. Just create an account and start dating from the word go. There will be a few spam requests, ignore them, take your time, know the site and soon, you will be on your way to finding the perfect soulmate.