Russian brides have become a fixture of the online dating scene. Do you think it's all just scams? Or maybe you are curious why these stunning beauties are single? Did you ever have a wish to try it? Possibly, you know someone who did?
If you ever wondered about this online phenomenon, here is your crash course in modern Russian brides.
7 Facts & Myths about Russian brides
Let's see what is known about single females from Russia that seek men for marriage abroad (aka "Russian brides").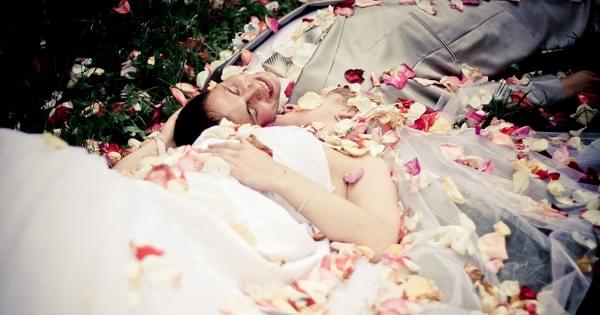 1. All Russian women are beautiful.
This is mostly true. Beauty for Russian girls is like religion. There is a cult of beauty in the country: A woman has to be beautiful.
You don't have to go to Moscow to see how females look in the streets. Go to Russian news channels on YouTube and see for yourself. Ladies in Russia spend a lot of time and money on presentation and looks. Naturally, if you put a lot of effort into something, you will get results. This is why Russian girls may look like models or TV presenters, although they do not have 5-star budgets or personal stylists. It's like a favorite hobby for females in Russia, perfecting their looks.
2. Russian brides are family oriented.
This is totally true. There is a strong government-sponsored propaganda of "family values" and "traditional family" in Russia. Gender roles of a man-provider and woman-homemaker/mother are encouraged to be obeyed through magazines and TV talk shows. As the result, every young girl's biggest dream is to marry a decent man. Besides, they have to do it by the age of 24 or be labelled "too old".
Yes, in large cities women tend to delay marriage until late twenties to get an education and start a career. But in general, a 25-year-old woman in Russia is worried if she is not married and starts urgently seeking a husband—including placing her data online with the view to meet a man from overseas. It's not about immigration but finding Mr. Right, who will help her fulfill ambitions of becoming a respectable woman: Wife and Mother.
The social status of an unmarried woman over 25 keeps dropping with every year. The general notion would be that there is "something wrong with her", since she didn't manage to attract a husband.
So, you can say that Russian brides are family oriented. It is the highest value for women from the former Soviet Union. (As opposed to men, whose highest value in life is to build a career.)
3. Russian brides have to look abroad because there are not enough men.
True. There are 86 men for 100 women in Russia, or 11 million more women than men. Expectedly, at least 11 million women have no chance to find a match at home.
However, demographic disproportions only start from the age of about 30. Russian men simply die early (because of high levels of alcohol consumption and recklessness, which are seen as compulsory masculine virtues). But if we take in account the fact that most women prefer a man to be 2-5 years older, then yes, from the age of about 25 (when women start getting worried about being single), there are fewer potential grooms than brides.
4. Russian brides make better wives.
It depends. As Socrates said, if you get a good wife, you will be an exception; if you get a bad wife, you'll become a philosopher. Not many philosophers are around, so we should assume most wives are good.
Jokes aside, most guys who marry Russian brides do it because they think they found someone special. Just as they do in marriages between locals.
The idea of a Russian bride is genuinely useful for men who want to get married and have a child, and would like to do it quickly. It fits dreams of Russian women who join international dating sites: To get married and start a family.
Of course, you will strive to find someone you really like and she should be excited about you as well—just like when people marry locally. In marriages between Russian women and western men, this is most often the case. Other cases include men looking for a "trophy wife"; such couples may last long or separate within a few years. In general, people get what they are looking for.
If the lady you liked wishes to have children and states that she wants to start a family quickly, then you know her motivation is to find a husband and stick with him. These are the couples that last.
5. It's easy to get a Russian bride, just send her the ticket.
False. You have to meet in person before applying for a fiancée (partner) visa to the USA, Australia, and most European countries. There are also requirements about having a genuine real life relationship, which means you need to submit documentation to prove it and pass a personal interview at the Consulate. It's a similar process to getting a Green Card by marrying an American, while in the country. Governments screen for legitimate relationships, and they are pretty good at it.
So, you cannot just send the ticket and get the bride knocking on your door next Saturday.
6. These women marry for a Green Card, and then divorce their husbands after two years.
If a woman wanted a Green Card, it's easier to get through professional migration or Diversity Lottery. There are simple options to achieve it reliably. Using a dating site doesn't give such a guarantee for a person whose dream is to immigrate. In fact, it would be easier for a woman seeking a foreign husband to immigrate by herself and then find a partner locally, once she is in the country.
But Russian brides do not seek immigration. They consider themselves patriots of their country. The only reason they seek a partner abroad is to get married and achieve their #1 dream: Becoming a Wife and a Mother. They would be happy to marry a local guy, if they could find a suitable husband at home.
Most Russian brides are terrified to immigrate. They only do it for their dream #1 (if they found a husband to create a family). Otherwise, she would prefer to stay in her homeland, having a large support network of family and friends, rather than living by herself in a country she doesn't know. This is why Russian brides do not plan to divorce a husband after two years. They are too scared to be on their own in an unknown foreign country.
Another test of this concept can be done by simply checking profiles of women. They seek a man of a certain age and personal characteristics. If the goal was to immigrate and then divorce, they would just marry anyone who offered such an opportunity.
7. Russian dating sites are full of scams.
It used to be untrue, but now I would have to agree. 95% of websites offering chat to Russian brides are indeed not kosher. (Yet there are about 5% of Russian dating sites that offer the real thing.)
• What happened in the Russian dating industry around 2003, they invented pay-per-letter (or PPL). In short, men who wanted to communicate with Russian women seeking marriage had to pay for every letter sent or received.
• Mails through the system were soon complemented by instant chat and video chat at $5-50 per minute.
• To get more women and therefore maximize profits, large Russian dating sites were paying commissions to recruiters (agents).
• Naturally, as it happens in the countries with abundant corruption, agents found ways to exploit the system. Agents started to hire women to impersonate brides and pay them a share of commissions they were getting from the "mother" site.
• Profits of the new system (PPL) were so high that by 2010 the majority of established Russian dating sites switched to charging for communication.
• Now the PPL scheme is omnipresent among Russian, Ukrainian dating sites. Some websites half-heartedly pretend to keep tabs on their agents to ensure their playing "by the rules", while others simply create dozens of clone-sites under different domain names to increase market penetration and keep pumping ahead with 100% fake online romances.
The PPL scheme itself is faulty. There is no way to ensure the communication is genuine, for as long as it is being compensated financially, which allows agents to hire employees. PPL websites can tell any stories, how they "check women", but while profile photos, videos and documents may be real, letters and chats are not.
Think phone sex that is paid per minute: How real are the things clients hear? It's the same level of genuineness in PPL schemes—and chats and letters are what clients are paying for.
The graphics below explain how this pseudo-dating process works.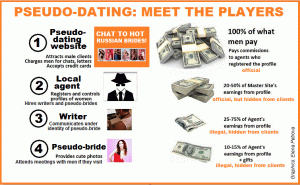 PPL scams are common knowledge in Ukraine.
Today, Ukrainian recruitment portals are full of ads seeking pretty girls to impersonate "brides" and English-speaking people (men and women) to sit in dating chats at nights—because of the time difference with the USA, which is the largest market for PPL sites. Chat operators stay up the whole night and weekends through, to entertain love-hungry suitors in the Northern America.
Because of low wages and the economic crisis in Ukraine, which started in 2014 after Russia's takeover of Crimea, there are plenty of people who are eager to work for USD in this industry as freelancers.
Governments of the USA, UK, and Europe don't seem to be concerned about these schemes and allowed this market to grow its turnover to over 200 million US Dollars by charging clients' VISA and MasterCard cards—despite the contract clauses about fraudulent services. The scale of this problem can be compared with Nigerian online scammers, but surprisingly, PPL sites keep flying under the radar of federal watchdogs with their modus operandi.
Ukraine is not Russia.
One bonus here is that Russia has no problem with PPL pseudo-brides. There is a much better law-enforcement structure and order, control over Internet content and browsing.
"Russian brides" PPL scams are typically based in Ukraine. But many guys simply do not understand the difference between these countries (in fact, Ukraine and Russia are kind of enemies right now).
If the girl you are talking to indeed resides in Russia, scams there are rare.
PPL websites are easy to detect.
As soon as you arrive, you are attacked by dozens of messages from stunning women with model-like photos, begging to chat with them. (These messages are mass-sent by automatic chat bots used by agents.) You can read these first messages and often can even respond free of charge. But the next message, the answer from the girl you tried to connect with, requires payment. Now you know you are on a PPL site.
If it was a real dating site, you would not be able to exchange mails without upgrading your membership (you or the woman could provide your email addresses or Skype handle, and the site would get no income). But since the communication from the side of the "woman" is 100% controlled by the site/agent, they are not worried about it.
Avoid PPL sites and you can meet a real Russian bride.
It's pretty easy to meet a genuine Russian woman seeking a partner. Skype, Viber, Duo and Whatsapp help you to see your Internet pen pal instantly on video—and these tools are 100% free.
For instance, Elena's Models dating site screens women's profiles on application and at the same time doesn't charge per letter, allowing you to share your contact information and connect through a messenger with video for free. You can see each other on video, show ID's if needed, to ensure your online pen pal. (Elena's Models administrators ask ladies to show their documents on Skype during the intake interview.)
Genuine international dating is a simple and transparent process.
Author: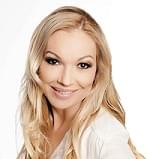 Elena Petrova is an online dating coach and founder of ElenasModels.com, the most trusted Russian dating site for Slavic women seeking partners abroad.