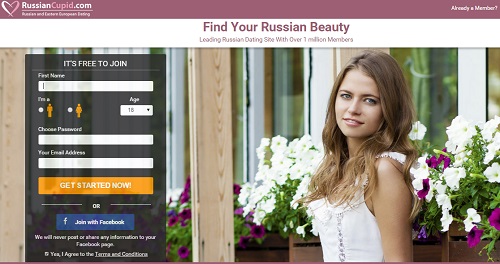 Every man dreams of the day that he will find the perfect woman, the woman of his dreams, the woman who will make his heart race everyday he sees wakes up next to her in the morning. Well, easier said than done, but niche dating websites run by Cupid Media have been making that possible. As you will see in this RussianCupid review, it is not just about the men finding the woman of their dreams but it is also about the Russian women singles finding the men of their dreams in this niche dating website. Most of the Slavic people living in different parts of the world would love to find a soulmate from home. This is why RussianCupid was established to help bring such people closer to their dreams.
Overview
Like its sister sites run by Cupid Media, RussianCupid would be a good place for you to start looking if you would like to find a mate from Russia. Firstly, it is a niche dating website, and like many other dating sites in the same category, you expect to find people from a certain place when you sign up or people looking for people from a certain place. Therefore, this one is targeted at people from Russia or people looking for potential soulmates and partners from Russia. The good thing is that while you are not assured 100% to find what you are looking for, you will not be disappointed.
The first thing that you will notice as soon as you sign up on this website is that you are allowed direct contact with the members on the site. This is quite something since many other sites do not allow that as they require you to go through an agency. However, on RussianCupid, you could be chatting away with a few or several potential mates as soon as you are signed up. You will get many people expressing interest in you and you too can send interests to a few people to get the ball started.
Can you enjoy all these for free on RussianCupid? Yes and no. The site offers free and paid-for membership. The free membership is a bit limited, but it is a good place to start all the same. With the paid-for membership that comes in two categories – Gold and Platinum, well, you can enjoy many more features and most probably even get the love of your life sooner than when you are using standard/free membership. Does that mean that free membership is no good? No, it just means that for a fee, you can unlock some wonderful features.
Finally, is RussianCupid legit? Yes, it is. However, be careful because some people will sign up on dating sites, create profiles and everything with the intention of scamming people. Be smart. Do not ever send money to strangers even if they promise you its airfare they want to come visit you and most importantly, never give sensitive identifiable information like credit card information to strangers.
Features
It is more of a match-making software
When you are filling in details about your profile, you will notice that this site asks for more details than most other sites. The reason for this is so that they can match you, using some algorithm or other with the best person, one who matches your personality as closely as possible. Therefore, do not hesitate to fill in those details. Fill in as much as is required and you will be good to find a soulmate.
It is direct connection
The company is mainly involved by offering you and other people a platform to communicate on and then they are out of the picture. They will never interfere with your dating process. No agency go-through as you seek to be connected with people. Just send them interest and that is that.
Serves diverse needs
As soon as you access the site, you will notice different things about it. For example, if you are looking for Russian brides, just click on the tab for that and if you are looking for a Russian woman, there is a tab for that. This site has millions of profiles of Russian women and girls looking for Russian men, foreign men, and so on. With the assurance that the people behind the profiles are real, you can be assured of finding a partner fast.
Free and full members enjoy different features
A free/standard/basic member will enjoy three features namely: basic matchmaking, sending interests, and communicating with the paid-for/full members by sending (not receiving) emails.
A gold member will enjoy all the features that the standard member enjoys, but with many extras like ad-free dating, instant messaging/live chatting, communicate with all members, can receive and send emails to all members.
The platinum members are the crème de la crème. They will enjoy all the features that the gold and standard members enjoy and then some more, meaning that they will enjoy ranking higher than the other members, can translate messages into their own language, highlighted profile, appear in profile searches and enjoy advanced match-making.
Costs
Two membership categories – gold and platinum are paid for. Below are the costs:
Gold membership – you can choose one of four packages:
One-month package, you will pay $29.99.
Three-month package – Pay $59.99 for the full three months or pay $20 per month.
Six-month package – Pay $99.99 for the whole six months or $16.67 per month.
One-year package – Pay $119.00 for the full year or $10 per month
Platinum membership – This one too has four packages
For the 1-month package, you pay $34.99
For the 3-month package, you pay $69.99 for the entire three months or $23.33 every month.
For the 6-month package, you pay $119.99 for the whole six months or $20 for one month.
For the 1-year package, you pay $149.99 for the full one year or $12.50 for one month.
Our Verdict
Well, from this RussianCupid review, you have seen that there are a lot of good things to say about the site. However, there are also some missing things. For example, they do not have a compatibility test, no guarantee that you will find someone and cannot control who will see your profile. But many other dating sites do not offer these features, so it's no deal breaker. We can advise you to sign up immediately if you want to date a Slavic woman. There are many of them here. Is RussianCupid legit? Sure it is, but then, there is always a chance that you could be scammed. Just follow our advice.