Dating in Germany, like many other things, has also gone online in a very big way. Now, many people look for love online. It is a busy world after all and the young, busy professionals are signed up on dating sites, everywhere in the world. Germany is no exception and in fact, it has its own share of the best dating sites in Germany. These sites are dedicated to Germans meaning that the core membership is German. But that does not mean that you will not find people of other nationalities there because you will. If you are looking for a German partner, these sites give you the best chance to get one.
Ok, so dating online is like the coolest thing to ever happen, you know, like since man discovered fire. We are agreed on that. Now, the next thing to figure out is the best dating sites to create an account with. Tell you what though … you are as good as the site that you sign up on. If you choose a good site, well, you will be up for the best dating experience. If you choose a bad site, you could be scammed out of your money, and time.
Do you want to know what the best German dating sites are? We have reviewed five of them for you here. Read on:
Belonging to a large group of sister dating sites that are targeted at different countries like the UK, France, Italy, Spain and others, Parship.de has been around for more than 10 years. It has connected thousands of people to their partners. Well, according to a Parship survey, they say that for every ten couples they connect, nine stay together. If that is true, then we can say they are good statistics. However, you will never find out unless you join the dating site and start looking.
Just imagine …
Just imagine how much time and money resources you are going to save when you start dating on Parship. For example, research has shown that to get a perfect mate, it could take you up to six years of dinners, lunches, calls, messages, coffees, outings and so on. Now, Parship gives you an opportunity to meet the German partner of your dreams with a few clicks of the mouse button.
Most of the singles in Germany live in Berlin, Hamburg, Cologne, Frankfurt and Munich. On this dating site, you will meet a single from any part of the country without traversing the entire country looking for love. Remember this not only for the straight sexual orientation singles, but even if you are gay and are looking for a gay partner, this is the site to be on.
Sign up is ever so easy. It starts with your gender and what kind of person you are looking for. For example, are you a man looking for a woman? Then you will be prompted to enter your email address and you will be prompted to choose a password that you will be using to log in on Parship.
Once you do that, hit the register button and you are done. You can confirm your registration in your email and then move on to create your profile. Upload photographs, tell people about yourself, and increase your chances of meeting a match.
Membership types
There is the free membership, which allows you to do things like create a profile, upload photos and communicate with others. However, the communication is a bit limited. With the paid-for membership however, members can communicate more freely, can filter profiles depending on things like hobbies. That way, you will increase your chances of meeting a person that you share many connections with. How much does premium membership cost? You will know when you create an account and login, but it will be worth it. In a few days, you will be on your way to getting what you need.
Dating Apps
The site has more than 34,000 new members everyday, so we make sure that you have great chances to meet you partner there. The site also has mobile apps available on both Android and iOS, which make it much easier for you to be online anytime.
2. Finya.de
With a huge membership spanning more than a million people from Austria, Germany and Switzerland not in that order, well, it is only logical that Finya gets many visitors per month. If you are looking for a partner from one of the three countries, this is the site to create an account. You will enjoy it especially as it is free. Yes, that is right, it is absolutely free of charge. You do not need to pay anything to find a partner on the site.
Signing up is just so easy. All you need to do is to choose your gender and then choose the gender that you are looking for. You can then enter your email where you will be sent a link that you will have to click to verify your account and after that, you are in. Some users can sign up with emails, while other people can sign in with Facebook account, which can make the registration process much easier and make sure the members are real persons instead of scams.
So what kind of experience can you expect on this dating site? Firstly, you can expect to hook up with many German partners looking for someone just like you. You can also diversify your taste if you like and try for an Austrian or a Swiss mate. The popularity of this site is going to help you a lot because there is a wide pool of users to choose from. You can at last have some love for free.
Do finish filling up your profile. One of the reasons why this is important is that a complete profile tells potential dates who you are, and that really helps. Remember, even before you can start communicating with any one, your profile will have told them whom you are. So make it as good as possible but be sure not to divulge too much information. Everyone loves someone who is a bit enigmatic.
Some of the things that you want to fill up include your education, job, likes and dislikes, brands and your general appearance. Tell something about your lifestyle, your character and relationship. That should just about set you up to get the German man or woman of your dreams. Share many recent photos of yourself, take some photos outdoors as that is always more appealing than indoor photos.
Searching for matches is easy too. Start by using the common filters like age, location and even photos. You can also like profiles that you think can make a good match and then wait for them to like yours back. If they do, you will get a notification and then you can commence communicating from there.
Once you have found your match or matches, you will want to communicate with them. This is easy. Ok, there is no video chatting, but there is instant chat with other members. This is just like text messaging but hey, it is instant and that is what matters.
Main benefit of Finya.de
It is free. Completely free and as a result, there is a huge membership.
Main disadvantage
That it is free means there could be many scammers. But with some dating etiquette, you should be well taken care of.
3. Lablue.de
Lablue.de is another one of the most popular online dating websites in Germany. Its core membership is made up of Germans, men and women from all walks of life, all of them looking for partners. Whether you are single, divorced, widowed, middle aged and so on, this is the place where you could find the love of your life. Having been established way back in 2002, this website has gotten better with time and over the years, it has connected many thousands of people in love. Today, the dating site has a membership of more than 500,000.
From the general structure of the site, there really is nothing to write home about, but the good thing is that it is simple and easy to navigate. Everything that you need is right there on the homepage.
This is a free-mium site meaning that you can choose to either use the free membership plan or join the paid membership club. Even if you use the free membership, you will also enjoy many features and will find a date.
Sign up is easy, and it is free of charge. You will be required to choose your gender, the gender you are looking for, your user name, password and email. After that, you will get a verification link in your email. You will have to click that to confirm your registration and then you can go up building your profile. This is also easy since it involves filling up some details about yourself, uploading photos and generally divulging information about yourself.
Things like age, height, smoking or not, weight, location, color of your hair, occupation, education and marital status are also very important because they help you get a match faster. When people are looking for profiles on the internet, they tend to go with the most complete ones because that way, they figure these are not for scammers.
One thing to note here is that you personal description has to be examined by the Lablue staff and that could take some time. However, since this is a freemium site, the paid-for members have their profiles approved faster.
How do you find a match?
Just use the filter system. Find profiles based on age, gender, hair color, lifestyle and so on. After that, you will want to communicate with your match. How do you do that? You can send text messages, instant chat but there is no video or audio. You can also send photographs and emoticons, anything to keep the conversation fun and going. Note that instant messaging opens up in a new window, so do not be surprised.
The things you will love about Lablue.de
It has a strong anti-spam policy that is always filtering profiles to authenticate them. In addition, you will get your horoscope readings everyday as the site brings them free of charge. If you would like to try for the 30-day free premium membership, that is possible without paying a coin. You can sign up for the affiliate policy and everyone who signs up through your special link moves you close to the 30 days of free premium membership.
What are your chances of getting a partner on Lablue? Very high. You will not regret it, and remember, you do not have to pay a thing. Love should be free.
4. Lovescout24.de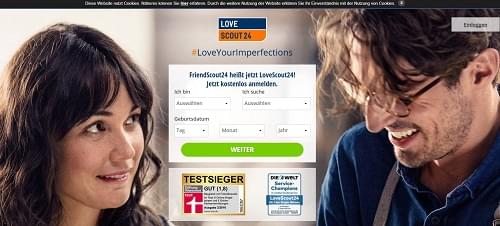 Lovescout24.de brings you the single highest collection of single people ready for dating from all corners of Germany. It is one of the best dating sites in Germany where you can find the love of your life in a short time. The good thing is that you will not only get members from Germany such as Frankfurt, Duisburg, Leipzig or Lübeck, but from diverse places such as Austria, the Netherlands and Switzerland.
Easy sign up process
The sign up process is a bit detailed, but it is not complicated. It starts with choosing your gender and the kind of person that you are looking for. Even if you are looking for a gay single, you are going to get him/her on this network. Enter your date of birth, and when you hit the continue button, you will be prompted to enter your city. Remember, the software is doing all that to help you get the best match possible.
After you enter your city, you will be taken to another detailed section where you will be prompted to choose a pseudonym, email address, password and how you heard about the service. After that, you can just hit the Register For Free button.
Events around you
Lovescout24 does not only match you with a good partner online, but it also scouts around for events near you where you can meet other singles. Why stay lonely when you can go out and have some fun with the singles on a personal level?
Why you can be sure to get a partner
Everything, every feature on this site is geared towards making sure that you get a partner as fast as possible. On top of that, there are more than 6 million members and counting and from such a large number, you are sure to get a person who meets your fancy.
Membership and cost
It is free or paid for. When you are a free member, you can do many things, including writing messages, create a detailed profile, upload photos, view profiles and get smiles and even get recommendations.
When you use the paid membership, be ready for more goodies than you can use. There are two paid memberships, Premium and Premium Plus. The payment packages are designed with age groups in mind.
Premium membership cost
Members who are 30 years and older will pay €39.99 for one month subscription, €89.97 for 3 months subscription, €149.94 for 6 months subscription and €239.88 for 12 months subscription.
Members who are 18 to 29 years old pay €19.99 for one month subscription, €44.97 for 3 months subscription, €74.94 for 6 months subscription and €119.88 for 12 months subscription.
Premium Plus Membership Cost
Members who are 30 years and older will pay €59.99 for one month subscription, €149.97 for 3 months subscription, €269.94 for 6 months subscription and €479.88 for 12 months subscription.
Members who are 18 to 29 years old pay €29.99 for one month subscription, €74.97 for 3 months subscription, €134.94 for 6 months subscription and €239.88 for 12 months subscription.
Users can use smartphone to search for singles to check out profiles and photos, you can download your free app and discover singles. Both Android and iOS apps are available.
5. Elitepartner.de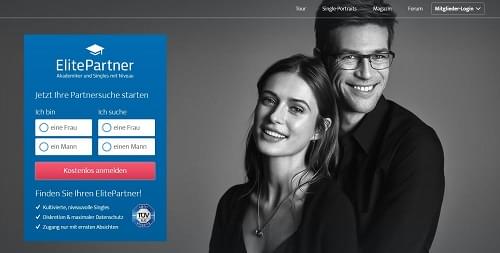 Just as its name suggests, Elitepartner.de is indeed one of the best dating sites in Germany that has been designed for elite people, mostly professionals. Having been in the business of connecting singles in Germany from the year 2005, this dating site has come a long way. Today, it is one of the most highly reputed sites where one can meet a single man or woman from anywhere in the country.
Most of the people that you will meet on this site are academics, professionals who are doing very well in their life. The success rate of this website continues to attract new members every day. Today, there are close to 4 million members in Germany, slightly half of them women and the rest men. With that kind of membership, you can be assured of finding someone to make your heart happy.
Every dating software has a way in which it matches partners and for Elitepartner, they use education. They are of the belief that people of the same education level can fit together very well and that they form long-lasting relationships. Thus, on this site, you are bound to find many educated people of diverse ages between 18 and 60.
Elitepartner is a paid for site
With a free Elite membership, you can do just a few things like send compliments, can take a small evaluation test and can do some basic searches. However, to enjoy more features, you need to pay. Here is how much paid membership costs:
For 3 months subscription, you will pay €69.95 per month
For six months subscription, you will pay €54.90 per month or € the total equivalent for the six months.
For 12 months subscription, you will pay €39.90 per month
For 24 months subscription, you will pay €24.90 per month
You can use payment options such as PayPal, MasterCard, Visa, American Express and Lastschrift.
The profiles submitted to Elitepartner.de are reviewed thoroughly which ensures that the people seeking membership are who they say they are. As everyone registering is required to take a personality test, the site uses that to find a good match for everyone. The success rate for finding a partner on this site is high. The company says it is like 42 percent, but most independent reviews show it to be about 25 percent.
If you would like to find an academic from Germany to share your life with, this is the dating site to sign up for. You will get good value for your money.
The site has cell phone Android and iOS app available, which can make you check out others profiles easily.
Conclusion
Finding the best German dating sites is not hard now. You can start by one of the five top German dating sites that we have reviewed here. However, to enhance your success rate, go for the premium membership where applicable and try communicating with more than one potential partner at any given time.