Thailand is called the "Land of Smiles". The female angles living in this great land are intelligent, educated and charming. Dating a Thai girl can be an amazing and a fantastic thing. And most importantly, Thai girls are eager to meet Western guys since many foreigners travel to Thailand each year. The average Thai people earns around $250-$350 a month, so many local girls want to find a western guy to change this situation, but remember not all of them are after money.
You may look for girls in bars and clubs, meet them in the real life such as shopping mall and night market. However, I highly recommend dating online instead nightclubs and bars. Online dating is much easier, less stressful and money-saving. Most importantly, it is really cool to have thousands of girls in front of you with just a few clicks.
There has been lots of Thai dating sites which focus on helping foreigners meet Thai singles. Many of them provide free basic functions like creating profiles, sending and receiving messages. If you want use more features, you will need to upgrade to a "premium member" to obtain more advanced functions such as live video chat.
You should be cautious about online dating like being in your own country, but there is no need to be fearful. I knew some western guys found their beloved partners via Thai dating sites. Please check my review of the best Thailand dating sites that you should have a profile on.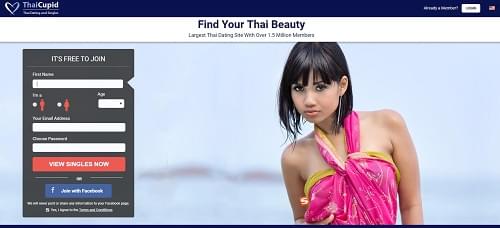 ThaiCupid is the most popular and biggest dating site to find Thai girls. As the leading Thai dating site Established in 2002, ThaiCupid has helped thousands of men and women find their lovers.
The site has more than 1.5 million members from all corners of Thailand such Bangkok, Chiang Mai and other small cities and other areas around the world such as the USA, Canada, Europe, Australia. When conducting a research, you will find thousands of Thai girls online who are ready to chat with you. On ThaiCupid you will meet women from different jobs such as teachers, office workers, nurses, students and business owners, any type of women you want to meet can be found here.
It is free to sign up, you can create your profile and start checking out Thai singles immediately. If you want to get features such as email access and IM chat, you will need to upgrade with just a few bucks. A paying member has endless flirting with amazing Thai girls out there.
As for the price, the one month Golden member fee is $29.99, not on the cheap side. However, you will save a lot of money for a multiple months packages. I recommend the 12 months plan at $119.99 in total, which is the best deal at 10 per month. It is a waste of money to pay more for Platinum membership. The Gold membership should be enough for you.
ThaiCupid supports more than 20 languages including Dansk, Nederlands, English, Français, Deutsch, Italiano, Japanese, Português, Russian, which make it much easier for you to use its functions. And besides, it also supports Android App, you can install it on your website and keep in touch with your beloved partners anytime.
All in all, whether you stay in Thailand or in other countries. ThaiCupid is a legit and best Thai dating site for you to meet real Thai women.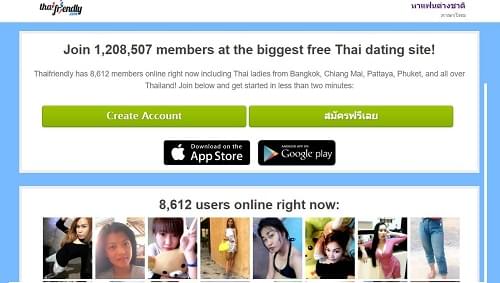 ThaiFriendly is another big dating site to find Thai love. It has more than 2 million members, a very impressive number of members and it is very active with lots of fresh Thai singles getting registered every day. And its online members can reach 20,000 in a normal time with Thai Ladies from Bangkok, Chiang Mai, Pattaya, Phuket, and all over Thailand!
The basic functions such as creating profile and messaging (limited to 1 message every 10 minutes) are totally free. A paying member can enjoy more features like unlimited text messages, appearing on top of the girl's search results and video chat.
The site also supports English and Thai language, so you can also find many Thai women who both speak English and Thai here, this helps it grow into a bigger member pool.
The site has both Android and iOS dating app available, you can download it from its official website.
Check out Thai Friendly now and I assure you will enjoy chatting with these beautiful Thai girls and find your love here!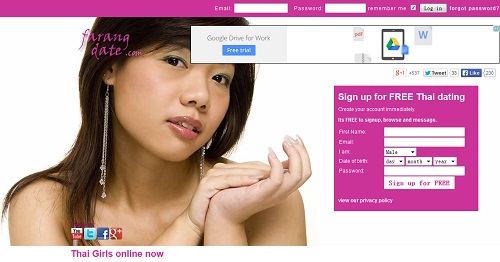 Compared with ThaiCupid and ThaiFriendly, FarangDate is not a very big dating site with around 300,000 members. but everything on the site is free, including creating profiles, searching, messaging, all these standard features you expect are actually free.
If you want to appear at the top of searches and get noticed, a cost of $4 per month is needed! However, it's design is sloppy and unfashionable, making it less likely that you will find a date soon.
You can find Thai girls from Bangkok or Krung Thep, Udon Thani, Nakhon Ratchasima, Khon Kaen, Chon Buri and Chiang Mai.
FarangDate is not among the top Thai dating sites. However, if you're low on cash and want to try your luck there, then you can get started from this dating site.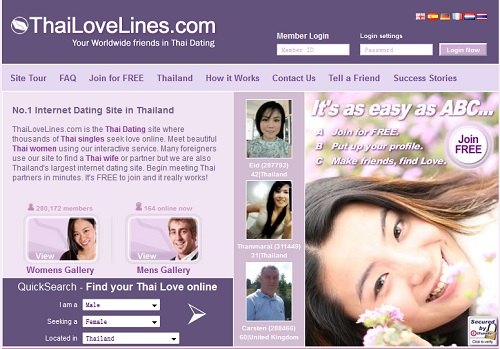 ThaiLoveLines.com is a smaller dating site for you to find Thai love. It has 336,292 members with about 150 people online when I browsed in May, 2017. It is not a bad choice for foreigners to find wife in Thailand.
Its members are from Thailand and foreign countries like The United States, Canada, Australia and European countries. The site provides various functions including video chat and live chat. It is free to sign up, and premium member has many additional benefits.
The site has more than 1,000 success dating stories, this proves it is a trustworthy site to find you Thai match.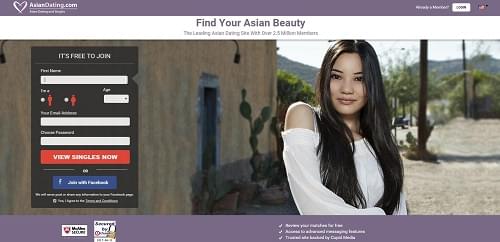 AsianDating is often missed because people prefer to go to the dating site with "Thai" in the domain name. But please note that Thai girls are all over the world and there are also other ladies with Asian origin in Thailand, too. So AsianDating is an ideal place you can meet not only Thai women but also girls from other Asian countries like Vietnam, China, Malaysia, and Indonesia. It has more than 2.5 million members worldwide, so you will have big chance to meet your Thai love there.
The site offers more than a dozen of different languages including English and Thai. A free member can contact others via emails. However, two free members are not able to chat. If you want to enjoy instant messaging chat, you'll need to upgrade your account to at least a Gold member at $10/month for a 12 months package. You can also have translation services and better potion in the search results with a Platinum member account.
Asiandating has Android app available, you can download it from your website and this makes it much easier for you to keep online anytime.
It tends to be a site for individuals to look for serious relationships, rather than just casual sex. It is one of the best dating sties for you to find potential Asian dates including Thai matches.
6. Thai Kisses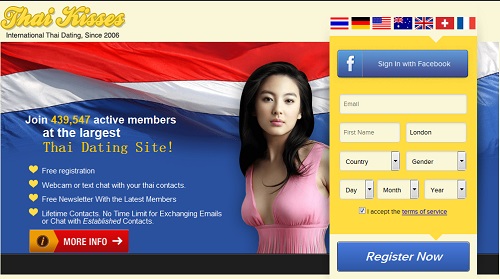 Thai Kisses was launched from 2006; it claims to have a big member base and continues to grow fast every day. Registration is free. The site offers various functions including search, sending messages and webcam or text chat.
But recently we have received a lot of emails from our visitors who report this site now has lots of scammers. So we do not recommend this site any more.