With Connor McGregor and the stout Guinness beer having put Ireland on the world map, you can be sure the search is always on for Irish partners. If you are Irish living in another country, or you just fancy an Irish partner, you have come to the right place. We will tell you about the best dating sites in Ireland and there are many! If you are a foreigner, know that its dating culture is unique, making the Irish great people to fall in love with. But be ready for some braggadocio for indeed, being Irish is something they are very proud of. If you live in another country, there is no doubt that you would like to meet some wonderful people from back home in Ireland. In this age of the internet of things, finding love online is possible. Dating has become more fun, more varied and very attractive. You can look for love online. Many marriages in different parts of the world started on the internet.
Some of the dating sites that we will be reviewing here include Match.com, POF.com, OkCupid, Tinder and Parship.ie.
If you have been around dating sites for some time, you will know Match.com. It doesn't matter whether you want to use this dating site in Ireland, Match.com offers wonderful features for all of its people irrespective of where they are in the world.
But one thing that this dating site is renowned for in the world is the singles event feature. Do you know what this means? It means that the company goes an extra mile to not only offer you a great personals site, but arrange a meeting with the singles wherever you are.
Let us assume you are in Dublin and match.com is arranging a singles rendezvous. Would you miss that for anything if you are single or if you are looking for a short-term affair? Of course not. For that one reason only, match.com has become one of the most prolific dating sites in the world today.
Features of match.com
Signing up is free of charge. And it is easy too. Just choose your gender, the gender you are looking for, and your date of birth. Then fill details for your city, your email, choose a username and a password and you are done. You are signed up.
When you start using the site, you will get instant messages asking to assist you sign up. Of course, this is most likely a bot, but it is very helpful all the same as it gives help to people who could be having trouble signing up.
Now, Match.com has been around for a long time, having been established back in 1995. Over that time, it has become quite a giant, offering incredible tips for dating online and helping millions of people to find love. It has also brought in great improvements like mobile dating, security features and many more. It has simply become better with time.
One thing though – this is not a free dating site. It is what you would rightly call a free-mium site where you can still use the website free of charge with limited features like creating profile, uploading photos and sending an email to name but a few of them only. However, to unlock more features that could help you find a partner faster, you will need to pay.
You will be asked to fill in details regarding your lifestyle, interests and so on. These will be used to find the closest matches for you. Every day, you are going to get matches being sent your way. Should you show interest in any of the profiles, an automatic message is sent to the owner of the profile that you are interested in them. You will also know when they read your email so that you do not wait without knowing whether your message has hit home.
Cost
You will pay $26 per month to unlock all the features of Match.com. This cost is well worth it because this site has many features to enable you get the dating experience of a lifetime.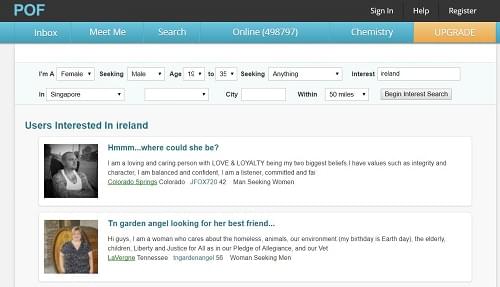 PoF means Plenty of Fish and for sure, there are plenty of fish in the sea, and there is no reason at all why you should not meet the love of your life. With more than 100 million users and all of them looking for love, why should you live alone and miserable? Out of these 100 million users, a good number of them are from the UK, the US and Canada. Basically, almost every part of the world is represented.
Plenty of Fish is a free-mium dating site. This means you can use it free of charge and still get access to features that will you find the ideal person that you would like to date. You can also pay a fee that is quite manageable to unlock more features – call it making a good deal better. However, the truth is that whether you pay or not, you will still get the best that this site has to offer.
Sign up is so easy and it is free too. You can then head on to their particulars section where you can attempt to answer as many questions as asked. The matching software will use the answers you give to get you as many close matches as possible.
And then there is the Spark feature, which will allow you to do a few things. For example, if it is the profile photo that you love, just drag a conversation icon to the photo and quote it. This will show the other person that you are truly interested in them.
Instead of waiting for the software to send you matches that you could be interested in, you can also do a search. You can include as many details in the search as you want to get the closest matches possible. Do make sure to specify that you are looking for an Irish partner so that you can be brought Irish profiles.
They have another feature that is called the Chemistry Predictor. Here, you have to answer many questions. It is not hard as these are the "agree or disagree" types of questions. The results of this personality quiz will be used to match to many potential partners signed up on the site. Remember, this site gets 4 million users signing in everyday.
But PoF is not all glitz and glamour. There have been issues raised by other users. For example, it is said that the site does not screen users and therefore there is a chance of getting scammed. Some also say that customer service is virtually non-existent. With many of the features being self-explanatory, it is unlikely that you will need customer service anyway, but it is always nice to know there is someone behind the desk.
Cost
You can choose the option of paying three months in advance or a year in advance. For the former, the cost will be $9.80 per month while the latter is $5.95 a month.

When you open the OkCupid home page, you will find a statement welcoming you to join the best free dating site in the world. OkCupid.com is the fastest growing dating site, at least that is what they say on their website. When you get to the landing page, you will be prompted to sign up for free. This is a standard feature with all dating sites; sign up is usually free of charge.
You will also see the number of people who are online at that particular time, for the few hours that we monitored this site, the number never dipped below 60,000 of active members available as at that time. If that is true, well, it is good news because a site that has 60,000 members active during work hours is a site where you can find what you are looking for faster.
But even before you sign up, you will be pleased to see a few profiles of members. You will see their profile photo, where they come from and their age. However, when you click on their profile photo, you will be prompted to sign up.
Signing up is so easy, just click all the three buttons given, but do make sure that you choose the correct choices. For example, one button will be for your sexual orientation, the next one for gender and the last one is the "continue" button. This will take you to the next step where you have to fill in your birth date, where you are from and your email of course.
There is an easier way to sign up though, through Facebook. Don't worry, they do not post stuff on your timeline and nothing shows up on your newsfeed, so your Facebook partner and family members will never know that you are using OkCupid.
For the OkCupid software to get you as close a match as possible, you will be asked to fill up a few important details. These include religion, lifestyle, dating, sex, ethics and so on. Give as many details as you can so that you get a good match, as soon as possible.
OkCupid Cost
Well, I know at the start of this review we said that OkCupid is a free to use site, and indeed, it is free because without spending a cent, you can access all of the features that this site has to offer. This means you can communicate, and do everything that a paid-for member can do. But there is a small problem of the advertisements. We know these can be a tad annoying, but you can live with them. Honestly, you can.
Our advice to you is, don't pay, use the free version. The paid-for version just stops the ads and gives you advanced search features, which by the way will really not affect your browsing experience or your chances of getting a partner.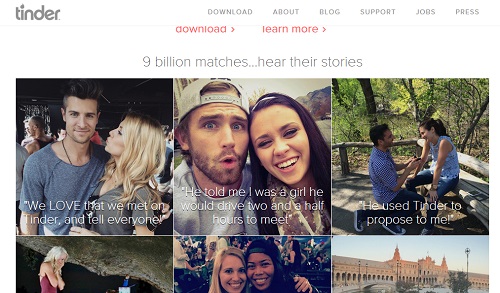 Tinder is very popular and there is no doubt that it is one of the best dating sites in Ireland as well as other parts of the world. But just what makes this dating site so popular? Simple research on the internet will show you that tinder is one of the most prolific dating apps (download it from Google Play Store for android) to use and just as its name implies, it is just what you need to spark the fire of love in your heart.
But Tinder is also different from other dating apps and websites because of a few features. For example, being paid for site (you can opt to use it for free), the pricing is based on age. That is right! Different age groups pay different prices to use this app. Users that are 29 years old and younger pay $9.99 per month to use Tinder while all the other users at and above 30 years of age pay $19.99 per month. This does not leave you much choice to choose what paid membership you would like to use, does it?
Because Tinder is global, one thing that you may be wondering is just what your chances for finding an Irish mate are considering that there are so many members from all over the world. This should be the last of your worries because once you choose your country, you will be matched with people from there.
To use Tinder, you must have a Facebook account. This is a pro to some people, and to some it is a con. However, you will love the fast sign up process. Who wants a laborious sign up process when they can barely find the time to date conventionally. The app does not post any stuff to your timeline and it will never show up in the news feed. You need not worry about your Facebook chums knowing what you are up to.
You will not need to do much even with the profile creation. However, make sure you have some nice looking photos on Facebook because Tinder will fetch those and use them to create your profile. You can also add photos from your phone or your Instagram account. After that, you can choose which gender you would like to be matched with and even the radius within which you would like to search for a partner.
Tinder will bring you pictures of friends that you can match with or you have a common connection with on Facebook. These could be friends of your Facebook friends, or it could be your Facebook friends. You can then check how far they are from your area as well as how long ago they were on Tinder. To tell the truth, Tinder can guarantee a hookup much faster than any other dating site.
There is a heart for "like" and an X for "not interested." As the profiles pop up on your smartphone screen or tablet, you can decide whether you are interested, or not.
One thing that Tinder does not do is consider your status as indicated on Facebook. So it does not matter whether you are married or not. That information will not show up on Tinder.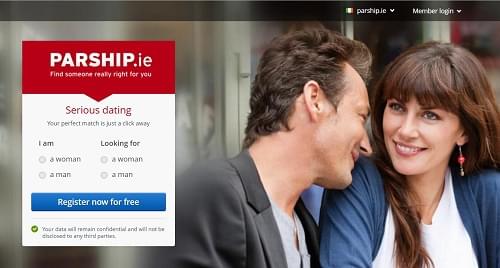 They claim to have 23000 new members joining this site every week. Whether this is true or not, well, it really does not sound like a bad number and Parship has some awesome features. You ought to join this bandwagon and see why it is one of the best dating sites in Ireland.
Unlike sites like Match.com, which have memberships running to more than 100 million, Parship is smaller, only laying claim to less than 20 million members in Europe. But being small for a dating site is a good thing because they have managed to run a very efficient house. Many people who have used this site in Ireland or other parts of Europe have found it very satisfactory. Expect nothing but the best if you do sign up.
Parship uses a matching program that was designed by a Hamburg University professor, so you can be sure that once you enter your details, the algorithm will get you many matches. Ideally, you can even get a thousand or more potential matches. This means that you will be off the site sooner than you know it, of course after finding a compatible partner.
Parship offers both free and paid for memberships and even for the free member, you can still get a good dating partner. However, the features are limited and therefore it is only fair to assume that using this free membership may take longer for you to get a partner. Likewise, a person using the paid membership will find a partner faster.
Some of the features that you access as a free member include:
Creating profile
Taking personality test
Access the site on mobile
See other profiles
Reply to messages from paid-for members
If you are a paid for member, you will enjoy all the features that the free members enjoy and better yet, access many more features. Some of them include seeing a list of the people who visited your profile, receive, send and read messages from all members, ability to search people closest to your neighborhood and you will get your personality quiz report in the form of a book.
Cost
£14.90 per month for a 12 month package, paid in one lump sum
£19.90 per month for a 6-month package paid at once
£29.90 per month for a 3-month package paid at once
To get the best service, look for Parship.ie online and sign up there for a free account as the site is dedicated to Irish users. That way, you will mostly be browsing profiles of users from Ireland.

Conclusion
These are just five of the best dating sites in Ireland. Now that you have seen how to use them, the cost and the guarantees, you can sign up. However, do take everything with just a little pinch of salt and practice due diligence before you share your personal information with people you meet on dating sites. Looking for love from Dublin, Waterford, Kilkenny and Galway starts right here.