Military men are eye candy! Women find them irresistible. But then, you do not wake up one morning and say, ahoy there military man, I want to date you, you good looking hunk of a man. No ma'am, that is not how it works. You need a few military man dating tips and that is exactly what you are going to read here. Having a honcho who is going to protect you feels like a nice idea. So where do you find the military men? Is dating them any different from dating the other kind of men? Are you going to marry him? If yes, are you ready to have children who will be referred to as "military brats"? That is why you are reading this: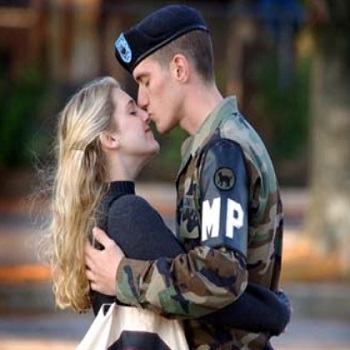 1. Join a soldiers dating site
This is where it all starts, isn't it? That is right; when you want to find a Roman, you go to Rome. That is why it is easier to find a soldier to date on the soldiers dating sites, rather than taking rare chances on the ordinary dating sites. Mostly, you will find that such sites come in two varieties. The first one is paid for and the second one is free. The free sites may not have as many features as the paid-for sites. For example, on the free sites, there may not be an option to email your interest immediately and you may not allowed to do instant messaging. The paid-for sites have these and more features. Thus, be advised that it would be better to pay a small fee to get more features than not pay at all and get fewer features.
2. Understand a soldier's life
A soldier's life is different from the ordinary Joe's life. You see, when others are attending to their work from 9 to 5, it is different in the barracks. It is even more different when your soldier honcho is on a tour of duty to Iraq, Afghanistan or some other place. In addition, he obeys orders and lives by a very unpredictable calendar. Thus, when you would like to go out on a date with him, do not be surprised if you call and find that he has been sent on a tour of duty somewhere. When reading on the army dating tips, you will find that most of the times, you should be ready to adjust your schedule.
3. Join forums for soldiers wives and girlfriends
Believe it or not, you will need the moral support of the forces wives and girlfriends. Do you know why soldiers live in barracks? Only a soldier will understand another soldier. On the internet, there are many forums for soldiers wives and girlfriends so that you can get moral support on some issues, for example, when your fiancée stays too long without coming home, when he has seen some action and seems to be stressed and so on. Believe it or not, no one can understand a soldier's wife's woes like another soldier's wife.
4. Be ready for some strict discipline
This man is used to taking orders and obeying them without question. In addition, this man is a neat freak, you know, wears shiny boots, clean pressed clothes and so on. Who does the pressing and the cleaning? Himself. Another thing that you need to know about how to date a military guy is that they are strict time keepers. Thus, keep the agreed time.
5. Write love letters when he is away
You can imagine how solitary it gets when one is stationed in a military camp somewhere in the hills of Afghanistan. Write him a letter every now and then and let him know you are thinking of him. Let him know that he is not alone on the battlefield and remind him that you are waiting for him back home. Sometimes, it takes just one letter to revive the love.
6. Never complain about his job
Now, every soldier is always tense because his job is hard. It is a job that entails defending, attacking, and being ready to kill for his country. This is why he is a soldier and you are not. His job may not allow him to keep ordinary hours and it may even send him away from home for months. Now, be nice, never complain about his job. Never force him to choose between you and the job, you might lose! Know everything that a soldier's work entails, and be ready to live with the absences.
7. Get ready for a rollercoaster of a ride!
Something that most of the army dating tips will not tell you is that the military is one heck of a fun unit to belong to. Your man will most likely be well trained, well traveled and have many humorous stories to tell you about his life. Do you remember the "Humour In Uniform" column in the Readers Digest? His life is something like that. Thus, enjoy yourself when you can, while it lasts.
8. Never try to dislodge him from his unit of army brothers
The army is a unit where the people who serve understand each other, love each other and look after each other. You see, if they are wearing the same uniform, then they are a team. Soldiers dating advice will tell you that an army man will always be an army man and he will always look out for his boys. Do not try to dissuade him from doing that.
9. If he loves you, he will treat you like royalty with loyalty
That is right … a military guy is fiercely loyal to all those who are for him. He will treat you with the same pride that he has when defending his country. This man does not love lightly. He loves with all his heart. Therefore, get on a few soldiers dating sites and get yourself a man in uniform and love them both – the uniform and its wearer.
10. He is yours if you love a polite man
That is right … what is not to love about these men? They are polite and they treat everyone with respect. They will not break the law and most importantly, they will love you and treat you with even more respect. When it comes to bed, well, they are wolves! Strong, well toned bodies and the urge to have it all because they do not know the next time they will have you. So be ready for great sex.
There, you now know a few military man dating tips and what kind of experience you can expect. Dating a military man is more or less the same as dating any other men, only that they are more committed and they love greatly. Enjoy!