Thanks to the high-speed internet connectivity and the adoption of technology, online dating has exploded among the urban Kenyan people. In fact, it has become so prolific such that a good number of urban singles prefer to look for love online. Many online dates have led to marriage. With this, we have seen many dating sites being established to carter to the Kenyan market. As millions of people continue to become connected to the web, with the market for smart phones expanding every day, we can say that online dating in Kenya has come of age. In the race for this young and promising market, many dating companies have set foot in Kenya. There are so many matchmaking sites targeted at this country and since they all claim to be the best, it can be a tad confusing to find the best site. So what are the best online Kenya dating sites?
That is what this article is all about.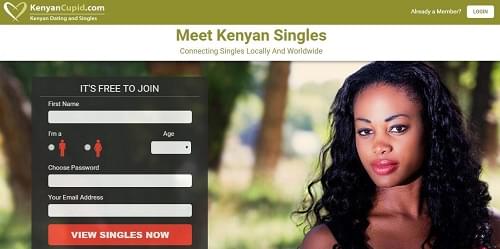 This is one of the best dating sites in Kenya and for many years, it has been connecting singles from Nairobi, Mombasa, Nakuru, Kisumu and other big towns with each other. It is very easy to use, just all the other Cupid Media sites. KenyanCupid.com is a niche-dating site meaning that the core membership is made up of Kenyan singles. However, anyone who wants to date a single man or woman from Kenya can sign up for an account and be connected with the love of their life.
But it all starts with the profile. Make it as detailed as possible because people will know you from your profile. That means that the more information it has the better for you. From filling in details about nationality, age and gender, here are some of the other details that you can give:
Tribe (Kenya is a country of roughly 43b tribes)
Your stand on polygamy
Willing to relocate
Where you stay
Religion
Ability to speak English
Ability to speak French
Horoscope
Have children (if yes how many)
Want children
Home types
Occupation
Type of employment and so on…
You can even fill in your bust size if you like. Most importantly, remember to say what you are seeking for.
Signing up for an account is free of charge. However, this being a freemium dating site meaning that it has a free as well as paid for memberships, you can decide to start with the free membership and then after you have the feel of the site, you can upgrade to paid-for membership.
As a basic member, you get a few things like creating your profile and viewing the profiles of other members. You can also send interest, make searches and even see when a person sends you interest. You can also see whether they are online.
Paid for membership comes in two packages for KenyanCupid.com. The first one is the Gold membership, which comes with features like no ads, ability to browse anonymously, instant messages, communicate with every member, send, receive and read messages.
Platinum membership comes with all the features that the free and Gold members enjoy, plus many more. For example, you can highlight your profile, rank higher above the other members, get advanced matchmaking algorithms and much more.
Costs for paid membership
| | | | | |
| --- | --- | --- | --- | --- |
| | Gold | Total amount | Cost Each | |
| | 1 Month | $29.98 | $29.98 | |
| | 3 Months | $60 | $20 | |
| | 12 Months | $120 | $10 | |
Platinum
Total amount
Cost Each
1 Month
$34.98
$34.98
3 Months
$69.99
$23.33
12 Months
$150
$12.5
Payment methods include PayPal and Credit Card. Unless you opt out of the subscription, it will automatically renew upon expiry.
Pros:
3 months Free trial
Leading Kenyan dating site
Free and easy registration
Good response rate
Live video chat and message chat
Android app is available
Cons:
At least one member need to be paid member before exchange message.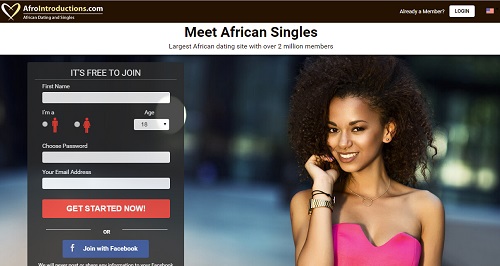 AfroIntroductions.com is another great site for Kenyan singles or for people who would like to date Kenyan girls. It is a very easy to use dating site, just like its sister website KenyanCupid.com. You will be signed up in a matter of seconds. Just fill in the first name, email, age and gender and you are ready to meet singles. However, while the KenyanCupid site is targeted at Kenyans only, the AfroIntroductions site is targeted at the whole of Africa. Therefore, be sure the profiles you will see on this site are for people from many different countries, all of them in Africa such as South Africa. Africa is not a country! It is a continent.
Why is AfroIntroductions one of the best genuine Kenya dating sites? It has many features and it is a freemium site too meaning that you can get a person to date if you are a free/standard member but you increase your chances if you are a paid member. This site has more than 2.5 million users. That means that you have thousands of chances to meet a person that you like.
There are many features to look forward to even as a free member. For example, you will be able to make basic matches, send interests, view profiles and even create your own profile. Be assured that many people have found love on this site using the free memberships. However, note that this takes much longer and therefore to expedite your progress, just upgrade and pay for membership.
Fill as many details as possible about what you are looking for so that the software can make a fast match that will be as close to what you want.
Paid membership
You can use different credit cards to pay, and even PayPal. Note that the subscription will renew automatically, that is, unless you follow their guidelines to unsubscribe.
Paid membership comes in two types – Gold and Platinum. They are as follows:
Membership Prices
| | | | | |
| --- | --- | --- | --- | --- |
| | Gold | Total amount | Cost Each | |
| | 1 Month | $34.99 | $34.99 | |
| | 3 Months | $69.98 | $23.32 | |
| | 12 Months | $139.99 | $11.66 | |
Platinum
Total amount
Cost Each
1 Month
$39.99
$39.99
3 Months
$79.98
$26.66
12 Months
$159.99
$13.33
Pros
Free and easy to register
Free to browse through profiles
A large number of members
Android app is available
Instant message and video chat are available.
Perfect search functions
Cons
One of two need to be paid members before communicate.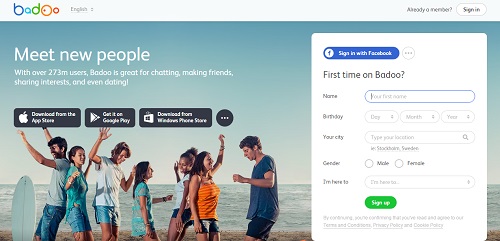 Owing to its simplicity of use and effectiveness, Badoo.com is very popular in Kenya. In fact, it is one of the best Kenya dating sites and you will see that as soon as you sign up. First of all, sign up is ever so easy. You are given the option of signing up through Twitter, Facebook or MSN. This is the simplest way to sign up but you can also sign up through their registration form, which is very easy work.
It is important that you upload your profile photo so that you can chat with other members. In online dating, you will realize that many people do not want to chat with people who have not added their profile photo. Also, fill up your profile with some details so that you make friends easily. You can also import contacts from different networks. You will be prompted to import contacts from Facebook, Yahoo, Gmail, Outlook and other email.
How easy is it to use Badoo? As soon as you have signed up, you will get messages from people who want to chat with you. You can start making friends as soon as you have signed up. It is that easy. However, you can only be able to view other people's profiles if you have created yours. It is better to create a profile as soon as you sign up. You have to increase your popularity by adding photos and remember, you are not allowed to add photos of children, animals or other people. You must add your photos or photos taken with friends, but you must be there.
You can use the People Nearby and the Encounters feature to make friends and date or chat. People Nearby brings you profiles of people who are near your location while the Encounters brings you random profiles and you can check them out one by one.
Badoo.com is mostly free, yes, all those features are free, but you can become a VIP and unlock superpowers by paying a small fee, in the form of buying credits. These credits will help you unlock more features like undo your last vote and highlight your profile to stand out among the more than 300 million users. You will also be able to meet new users before people who have not activated their superpower feature, get profile skins, meet popular Badoo users, see people who want to meet you and so on.
Buy credits to unlock many Badoo.com features. These credits are sold at very affordable prices as below:
| Number of Credits | Cost (USD) | Cost per Credit (USD) |
| --- | --- | --- |
| 100 | $2.99 | $0.03 |
| 550 | $7.99 | $0.0145 |
| 1250 | $9.99 | $0.008 |
| 2750 | $19.99 | $0.0073 |
The Badoo app is available for mobile – android and iPhone.
What makes Badoo.com one of the best Kenya dating sites is that you can get a soul mate free of charge, without ever upgrading to paid membership.
Pros
Free to signup and use
Support app for iOS, Android and the computer.
Video Chat is allowed connect in real-time users.
Strict profile verification to make sure members are real people.
Available on multiple platforms including computer, Apple, Android and Blackberry.
Cons
The matching system works not very well.
Badoo credits expire after six months.
4. Zoosk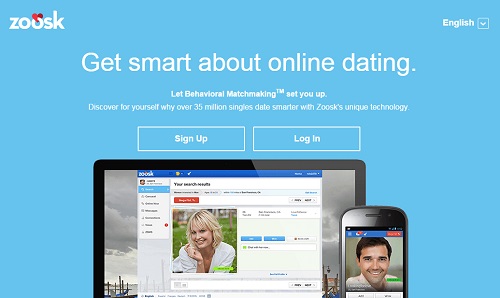 With more than 38 million singles on this network alone, you can be sure that a sizeable number of these people are from Kenya. Thus, if you have been looking for an opportunity to date a Kenyan single lady or man, this site will give you a chance to do just that. One of the most endearing things about using Zoosk.com for dating is the SmartPick feature that allows you to catch up with your potential dates even when you are on the move. This feature is designed just like messenger and therefore you can keep communicating all the time.
The best way to sign up on Zoosk is to use your Facebook or Google Plus accounts. That way, you will find the sign up process easy and fast. However, you can also use their sign up form and within minutes, you will be signed up. Note however that at times, they can say that the service is not available in your region.
Zoosk is a paid for hookup and casual sex dating site that was started in 2007 and it has connected millions of singles out there. However, if you would like to have a feel of the site before you sign up, then you should start with the free membership and then later on, you can move on to the paid-for membership.
Zoosk works very well with Facebook since it was first created as an app for Facebook. When you sign up on Zoosk using your Facebook account, it will pull information from your Facebook profile to create your new profile.
This app will get you great matches using its Behavioral Matchmaking feature, which sets up matches and brings you people who are as close to your personality as possible. What makes Zoosk a good dating site is that all users are expected to verify their accounts using their Facebook accounts or phone numbers, a rare feature indeed, because many other sites do not have that.
As a free member, you can create a profile, respond to emails sent by premium members, send winks, add other members to friend's list, play Carousel, send winks and do much more. The types of relationships allowed include straight, gay and lesbian.
Paid or premium members enjoy many benefits and features. One of them is that they can communicate with every member whether paid-for or free of charge. They can also chat online, send and receive emails, see who viewed their profile, send winks, wink back in response and even be highly ranked.
Zoosk cost starts at $29.95 for one month, $19.98 per month for the 3-month plan billed in one payment of $59.95 and $12.49 per month for the 6-month plan billed as one payment of $74.95
Cost
Subscribers
Total amount
Cost Each
1 Month
$19.95
$19.95
3 Months
$49.95
$16.65
12 Months
$149.88
$12.49
Cons
Trying to sign up on Zoosk when you are from Kenya can be impossible. When we tried, they said that their service was not available for that region. Therefore, maybe one may want to use VPN if it is allowed, or just forego it.
Zoosk coins are also available for various purposes. They are sold at $5.95 for 60 coins, $39.95 for 480 coins and $99.95 for 1800 coins.
5. Grindr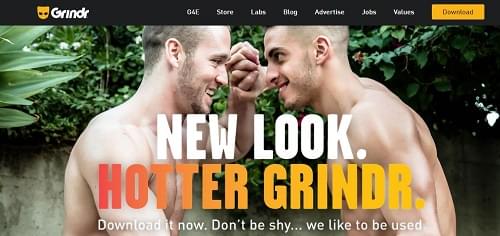 They say there are more than 300,000 people online any time. Whether that is true or not … well, we leave it to your judgment. However, one thing that cannot be disputed is that this dating site is very popular with bisexual and gay men. This kind of membership makes it one of the best Kenya dating sites because Kenya is one of the few countries in Africa where the gay community is widely accepted and has of late being viewed as a regular group. Therefore, if you are a bisexual or gay man and you would like to date a hot Kenyan guy, this is the site where you should sign up for a free account.
Grindr is actually an app that is designed specifically for use with android and Apple devices. Therefore, before you can sign up, you will have to download it to your mobile. It is available on free as well as paid-for basis with many features for both versions. This is the most popular site where men can meet fellow men and date them. It has millions of users from all over the world.
When you download the app and install it in your mobile, you can then proceed to create your profile. Make it as inclusive as possible with things like Grindr tribe, the type of men you are looking for, your status (single, married, divorced etc). Once you have done filling up as many details as possible, you can then start chatting with the guys who catch your fancy.
Share your hottest, most recent photos with guys from Kenya and they will share theirs with you too. You are also allowed to filter your matches until you find the closest one. If there is that one guy that you have the hots for, you can star their profile and if there are guys you do not like, just block them. Because this app uses location parameters to bring you matches of guys who are close to you, you can see up to 100 men in your location and you can even set meet ups.
If you think Grindr is great for the free members, you should just see what the paid members enjoy. There are so many features for them at a fee. For example, you will have no ads to disrupt your experience, see up to 600 guys in your location, enjoy endless blocking privilege, send many photos at the same time, see only men who have profile photos and see only the men who are online at that given time and even arrange meet-ups.
How much money will you pay to become a paid member on Grindr?
Cost
Subscribers
Total amount
Cost Each
1 Month
$9.99
$9.99
3 Months
$20.97
$6.99
12 Months
$47.88
$4.78
Pros
Free to register
More than 6 million members
Geo – targeting
Cons
There are ads
Lots of fake profiles
Conclusion
There are many other best Kenya dating sites but these five are a good place for you to start, especially if you are a foreign single looking for a Kenyan single to date. However, we would recommend that you start with KenyanCupid, AfroIntroductions and Badoo in that order since it is easier to find a single there than elsewhere. Zoosk refuses to accept Kenyan IP addresses and therefore maybe you will only find Kenyan singles living outside their country. About Grindr … if you are a man looking for men, that is where you should be.