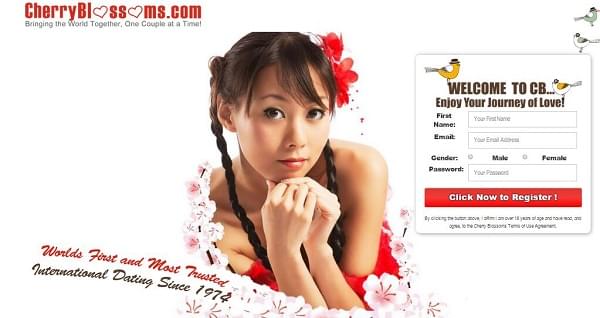 With a free profile, that is right, free, without paying a dime, you can upload up to 12 photos. Welcome to our Blossoms review, and we will try to establish whether this website is worth spending your time on. Can you meet the love of your life here? It seems to be a very popular site, but most others are like that too.
There are many sites that specialize in the Asian dating market, but Cherry Blossoms is different in that it brings you many single women from many countries rather than just focusing on one country. This therefore means that chances of finding the right mate are high indeed.
Overview
Blossoms was established more than 30 years ago as a personals picture magazine, it would later be re-established to become a fully-fledged dating website for men and women to meet the love of their life. Called CherryBlossoms, this website is designed for Asian men and women who would love to find their soulmates on the internet and for the many years that it has been in business, it has perfected that, having connected many singles. This is not a mail order bride service. Rather, it is a platform where people can meet, make friends, mingle and see just how much they like each other. If they like each other a lot, well, they can take things another step from there.
There are more than 60,000 women from Korea, Philippines, Thailand, Malaysia, China, Cambodia and Vietnam to name but just a few of them. Therefore, if you are an expatriate from any of these countries working far from home but you would still love to date and settle with a lady from home, this is the service to subscribe to.
Is Cherry Blossoms entirely free? It is for people who do not want to spend money on online dating and they therefore do not mind using the limited features that are accorded the free members. However, for people who would like to enjoy the full benefits of dating on this site, then there is a fee to pay which we will look at later.
Are there are scammers on this site? Well, we cannot say for sure, but just as you would be advised to stay on the lookout on any other site, even on this one, you have to do your own due diligence to determine whether the person that you are dealing with is who he/she says. Never send money to a person you have not met physically. There could be a few fake profiles on the site, and this is also expected on many dating sites. But that should not deter you from pursuing your interests on this website.
You can view the profiles of the people on the site using criteria like most viewed profile, highest rated photos and so on. All these are meant to make your hunt for the right mate easy as you will be shown those of the opposite sex. However, note that on the side of the demographics, it might be hard to find women in their twenties and most likely, even those who say they are twenty something are usually older. However, if you are looking for hot women in their 30s, you are in for a very pleasant surprise.
Is Blossoms legit? Yes. It is duly registered under the right authorities and when you look on their homepage, you will even see the BBB logo. This is the Better Business Bureau which is a kind of a watchdog for online businesses. Therefore, if you are scammed on the site, you could file a complaint with BBB.
Features
The very first feature that we should mention here is the Blossoms guarantee. This applies to the paid-for members and they tell you that if you make the monthly payments of $24.95 or pay $74.95 for the entire six months, you will find a girl on this site and that if you do not, then you will get the next six months free, to use the site and get the girl of your dreams.
Then there are Visa services. This is where the company guarantees you support if you need travel services. For example, they have services like fiancée visa arrangements, travel visas and even the adjustment of status.
It is basically a match making site and therefore a few minutes after signing up, you will start getting emails from interested people. This makes the search easier for you as you do not have to do a lot of searching. The software finds profiles that match your criteria and sends them your way.
Do they have any security feature on this site? Although it is not as intense as we would like to see, they have tried. For example, the software allows the users to search for photos on the web to see whether the people are whom they say they are.
Cost
How much will the paid for membership on Blossoms.com cost you? Well, as we have said in the features section, this should not be much, comparing other sites around. For example, you can opt to pay a $74.95 for an entire six months backed by a guarantee of finding the girl of your dreams within that time, or you can opt for the monthly payment of $24.95. If you take the three-month subscription, you will pay $16.65 per month. If you go for the six-month subscription, you will pay $13.32 per month and if you opt for the twelve-month subscription, you will pay $9.99 per month. These prices are not too bad and with the six month guarantee, we can say that what it offers is far much better than what you find in the market.
Verdict

In this Blossoms review, you have seen the strengths and the weaknesses of the site and you can now make your decision. However, the pros outweigh the cons by far and therefore you can sign up for a free account with them without hesitation. Backed by a healthy guarantee that you will find a girl within the first six months of signing up, this is a huge confidence booster for you. The design is a bit wanting though.