Sexy women celebrities always strike the sight in entertainment circles. Here is a list of the 10 sexiest female celebrities in Taiwan!  all these ten women have all been praised for their beauty and charisma.
1. Chi-ling Lin 林志玲
Chi-ling Lin (born in 1974) is a sexy supermodel and actress. She is well-known for her gentle manner and physical beauty, and is dubbed as "The First Beauty of Taiwan."
2. Pace Wu 吴佩慈
Pace Wu (born in 1978) is a Taiwanese model, actress, and singer. She has 32D breasts, curvy body, white skin and elegant demeanor.
3. Bella Chen Yu Han 陈瑀涵
Bella Chen Yu Han (born in 1984) is a model and Miss Taiwan 2006. She is famed for her more than ample bosoms (36D).
4. Bianca Bai 白歆惠
Bianca Bai (born in 1982) is a Taiwanese model and actress. She owns bright and shinning eyes and has been considered as the "successor of Chi-ling Lin". She was also elected as the "Most Sexy Taiwan Goddess" by Taiwan FHM magazine.
5. Alyssa Chia 贾静雯
Alyssa Chia (born in 1974) is a famous actress. She is pretty, mature and very cute and is known as "Queen of drama." Here famous TV series include Da Han Tian Zi and The Heaven Sword and Dragon Saber.
6. Tian Xin 天心
Tian Xin (born in 1975, also known as Tien Hsin) is a Taiwanese model and actress. With innocent eyes, pretty pouting and her passion, all these make people ecstasy. Her famous dramas and movies include Who's the One, A Good Wife, and Jia Mian Tian Shi.
7. Hou Xiangting 侯湘婷
Hou Xiangting (also known as Angel Hou, born in 1982) is a Taiwan singer famous for her song "Do You Love Me". She is noted for her busty body, with 170 cm height and cup 34 D bra size.
8. Stephanie Hsiao 萧蔷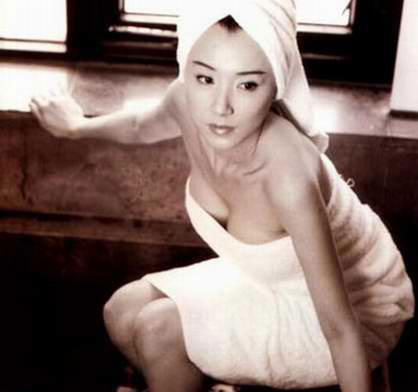 Stephanie Hsiao, a famous model and actress, is considered the most beautiful woman of Taiwan. She is so elegant and noble and very charming.
9. Xu Jiarong 许佳蓉
Xu Jiarong (born in 1975) is a Taiwanese hostess.  She is famous for her sexy-style show and is dubbed as the "Queen of Wardrobe Malfunction" in entertainment circle.
10. Li Qianrong 李倩蓉
Li Qianrong (also known as Janet Li, born in 1978) is a popular actress in Great China. She once hosted the program "The World is magnificent" in CTV in Taiwan.
Related: Top 6 Best Chinese Dating Sites