Review of: Chinalovematch.net
Reviewed by: Peter Wang
Rating: ★★★★★
Summary: A trustworthy dating site for serious long term relationship dating, spam free,
ChinaLoveMatch.net is quite unique in the world of Online Dating. This site is focused on long term relationship dating so if you are looking for cybersex, or one night stands or just casual dating it is really not for you. However, if you're looking for real Chinese women for a long term relationship or life partner, CLM has a lot to offer. The site leads Online Dating in providing member security and in providing a true online dating community.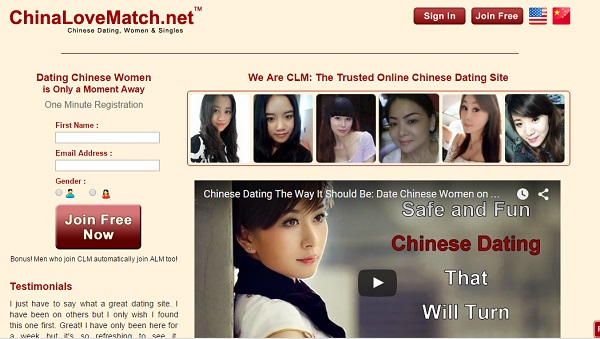 Protect members from online scammers
CLM is not the biggest, but is one of the very few dating sites that fiercely maintains honesty with our members and equally fiercely protects them from scammers.
The management takes a lot of pride in the great effort that is made to protect members from online scammers, and to educate them about how to protect themselves. CLM rejects over 30% of all registrations because they are deemed to be scammers. However, some sneak by, so rather than hide the existence of scammers in online dating, members are encouraged to report anyone acting suspiciously. CLM investigates promptly and takes action when needed. If a scammer is discovered on CLM they are placed in Scammer Prison. This trademarked feature of CLM then notifies every member ever in contact with the scammer to cancel all communications
If you were to check almost all the other Chinese sites, even the biggest of them, you will find running wild on them the same scammers who you can find in CLM Scammer Prison.
Track IP location of your chatting member
Another security feature introduced to Online Dating by CLM is the ability to check the IP location of a member while you are chatting with them. This is another really effective security measure.
True blogs and forum to share experience in Chinese dating
CLM also provides a great sense of true community through its blogs and forum. There is really nothing else like the CLM blogs and forum in online dating. The male bloggers are all real members of CLM who have lived and worked in China, have experience in Chinese dating to share, or are already now in serious long term relationships with real Chinese women. The female bloggers are also members who are real Chinese women.
The forum is open to all members to communicate and ask questions, offer advice and get dating ideas from fellow members' reviews. This goes a long way to overcoming the cross cultural barriers that exist in International Online Dating.
Responsive, helpful and friendly customer service
Service is also a big feature on CLM. Their service is responsive, helpful and friendly. While most online dating sites are famous for offering no service at all, CLM is appreciated by its members for the opposite. They provide service that is second to none.
Affordable fee,  unlimited video chat, instant messaging and no restrictions on exchanging private contact details
Finally CLM is loaded with great features. It was CLM that introduced instant translation to instant messaging and to the inbox. On CLM you pay one reasonable monthly fee and you have every feature available to you, including unlimited video chat and instant messaging, and you can communicate with every member of the opposite gender on the site with no restrictions on exchanging your private contact details if you choose.
If you are a free member you are still able to communicate with all paid members, but at the rates CLM charges, you might want to seriously consider an upgrade. When all the Chinese women are real, why not be able to chat or message with anyone you choose?
Conclusion: A serious long term relationship dating site that you can trust.
For serious long term relationship dating, ChinaLoveMatch.net is truly unbeatable. Thanks for reading this ChinaLoveMatch review. I hope it helps clarify that ChinaLoveMatch.net is a not a scam and is a legitimate dating website and definitely the real deal!